Iced Molasses Ginger Cookies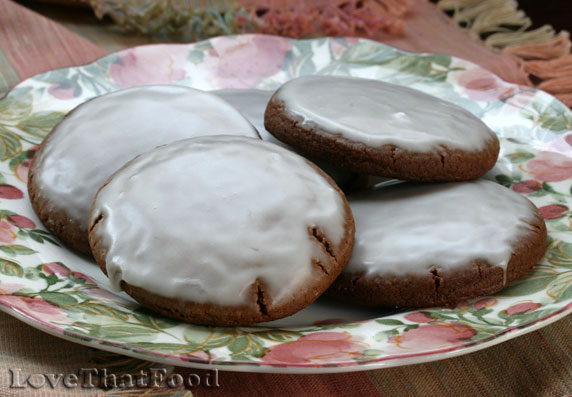 Tips:
For a moist and chewy cookie, do not over-bake..
Suggestion:
Perfect for any occasion,and especially during holidays such as Halloween, Thanksgiving, and of course, Christmas!
Most of us are likely to associate the flavors and aromas of molasses, ginger and cinnamon with the Fall and Winter seasons, when Halloween, Thanksgiving and Christmas holidays call for festive baked desserts. The good news is, we don't have wait for the holidays to enjoy these distinctive desserts! These Iced Molasses Ginger Cookies with their perfect blend of molasses, ginger and cinnamon are just too tasty to only be celebrated once a year.
This cookie recipe is easy to make, and if desired, the batter can be made in advance and chilled in the fridge for a day or two until you're ready to bake them. What makes these cookies especially unique is the addition of sour cream to the cookie dough, which gives them a moist and chewy texture.
Because of varying oven temperatures, this recipe calls for 12 to 17
minutes of baking. As with most other cookie recipes, the cookies will turn out more moist and chewy if you keep the baking time as short as possible (while making sure the dough is baked). It's always best to bake just one cookie as a test to figure out the best baking time to produce the perfect chewy cookie. Because of the generous amount of molasses added to the cookie dough, these cookies begin with a dark color even before they are baked, so you won't be able to judge doneness by color alone. As a rule of thumb, after 12 minutes of baking, as soon as the cookies begin to crack a little (much like brownies) and look somewhat firm in the center, they are likely done. Again, baking one test cookie before baking the rest of your batch is recommended for the best results!
The icing for these Iced Molasses Ginger Cookies is the perfect consistency for coating the cookies with a simple dipping prcoess, but will firm up fairly quickly at room temperature. The icing will continue to harden with time. If you'd like to store them in a cookie jar as soon as the icing has hardened, I recommend placing a small sheet of waxed paper in between each layer of cookies to prevent the icing from sticking to the other cookies. You'll see, though, that by the next day, the icing will have hardened enough to not need any waxed paper between the cookie layers. On a last note, as tasty as these fetive cookies are any time of year, you might want to revisit this recipe when the holidays roll around!
Ingredients
Cookies

1 cup butter
1 cup sugar
2 eggs, beaten
1 cup dark molasses
4 cups flour
1 teaspoon baking soda
2 teaspoons cinnamon
2 teaspoons ground ginger
1 teaspoon cream of tartar
1 cup sour cream



Icing

4 cups sifted confectioners' sugar
1/4 cup skim milk
2 tablespoons freshly squeezed lemon juice
1 teaspoon vanilla extract
Directions
Preheat oven to 350°F.
In an electric mixer bowl, cream butter and sugar. Add beaten eggs and molasses and mix again until blended, stopping once to scrape sides and bottom of bowl to incorporate all ingredients.
Sift flour together with baking soda, cinnamon, ground ginger and cream of tartar. Add alternately to electric mixing bowl with sour cream. Cover with plastic wrap and chill in the refrigerator for 1/2 to 1 hour.
Lay a sheet of waxed paper on your work area, then dust waxed paper lightly with flour. Roll out cookie dough on top of waxed paper to about 1/4 inch thick, lightly rubbing some flour onto rolling pin as needed to prevent rolling pin from sticking to cookie dough.
Cut out cookie rounds using a 2-inch biscuit or cookie cutter. (Tip: Before cutting each cookie, dip cookie cutter into flour to prevent it from sticking to cookie dough. Carefully lift cut cookie circles with a thin metal spatula (also dipped in flour before each use), and transfer to a cookie sheet sprayed with nonstick cooking spray. Bake for 12-17 minutes or just until cookies appear done (for moistest cookies, do not overbake!). Allow baked cookies to rest for about 1 minute, then transfer carefully with a thin metal spatula to a cooling rack to cool completely.
Once cookies have completely cooled, frost with Icing (recipe follows) by dipping tops of cookies into icing, allowing excess to drip off before placing on a tray to harden. Allow to sit at room temperature until icing hardens. Place cookies in a cookie jar with a small sheet of waxed paper placed in between each row of cookies to prevent sticking. Once icing has completely hardened (likely hours later or the next day), waxed paper will not be needed and may be removed.
Icing
Place all ingredients in a medium
mixing bowl
and whisk until completely blended and smooth.
Other recipes you might like: