Iced Lebkuchen Cookies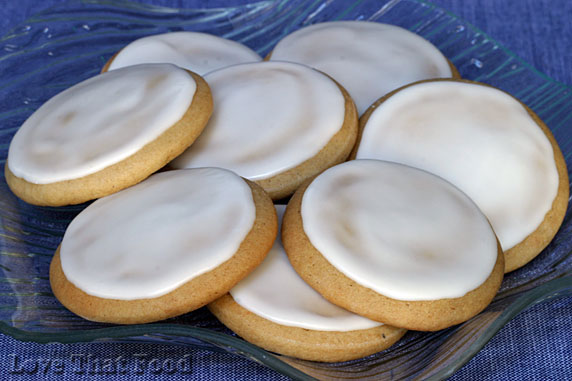 Yield:
About 3 dozen cookies
Tips:
Cookies may be iced after slightly or completely cooling. Wait until icing has completely dried and hardened before storing.
Suggestion:
These cookies are great anytime, and are perfect around the Christmas holiday because of the traditional Christmas seasonings of cinnamon, nutmeg and cardamom.
Iced Lebkuchen Cookies are soft and chewy and full of those wonderful spices we traditionally celebrate around the Christmas holiday, such as cinnamon, nutmeg and cardamom - though these German style cookies are of course fabulous any time of year! These festive cookies are sweetened with brown sugar and honey, which gives them their soft and chewy texture. Once out of the
oven and slightly or completely cooled, these German cookies are topped with a an easy-to-make sweet vanilla icing that has a gives them a nice light crunch after the icing (or glaze) sets. The cookie dough will be very moist after mixed, so it will need a little time in the fridge to stiffen up before rolling it out and cutting it with cookie or
biscuit cutters
. If you're making these around the holidays, you can add a few drops of food coloring into the icing before spreading it onto the cookies to add a little holiday flair! Important tip: Make sure the icing has completely dried and hardened before storing the cookies or the cookies will stick to one another. The time it takes for the icing to harden varies. To test the icing to see if it's ready for storing, simply gently run a finger over the top. if your finger glides freely and the icing stays in place, you can transfer the Lebuchen cookies to an air-tight container and store at room temperature, where they will stay soft, chewy and fresh for days - though chances are these cookies will not last long!
Ingredients
Cookies

3/4 cup honey
2 tablespoons water
1 cup light brown sugar, packed
1 cup butter, softened
1/2 teaspoon salt
1/2 teaspoon ground cardamom
1/2 teaspoon ground cinnamon
1/4 teaspoon ground nutmeg
3 1/2 cups all-purpose flour
1/2 teaspoon baking soda
2 large eggs, lightly beaten



Icing

1 cup confectioners' (powdered) sugar
3-4 teaspoons milk
1/2 teaspoon vanilla extract
Directions
Cookies
Place the honey, water and brown sugar in a medium saucepan over medium-high heat. Bring the mixture to a boil, and continue boiling for 5 minutes, stirring frequently. Remove saucepan from the heat, stir in the butter and allow to cool slightly.
Transfer honey and sugar mixture to an electric mixer bowl. Add the salt, cardamom, cinnamon, nutmeg, flour and baking soda and mix until well-blended. Add eggs and mix again until well-blended, stopping once to scrape sides and bottom of bowl to incorporate all ingredients. Transfer cookie dough to a bowl, then cover and store in the refrigerator until chilled and firm (1 hour to overnight).
Once cookie dough is chilled and firm, preheat oven to 325 °F. Grease (using butter or nonstick spray) two baking sheets (alternatively, line baking sheets with parchment paper).
Remove dough from bowl and place on a lightly floured work surface. Roll out the dough with a rolling pin to a 1/4-inch thickness. (Note: If cookie dough is too difficult to remove from the bowl, simply allow it to sit at room temperature for a few minutes).
Once dough is rolled out to a 1/4-inch thickness, cut out cookies with a 2 1/2-inch round cookie or
biscuit cutter
. Transfer cookie rounds to prepared baking sheets and place in oven. Bake for 10-13 minutes, or just until done and just as the cookie edges are on the verge of turning brown (try not to allow the cookies to turn brown, because this will make them too tough).
Icing
While cookies are baking, in a small bowl, whisk together confectioners' sugar, 3 teaspoons of the milk and the vanilla extract until the icing has a smooth texture. Add additional milk to reach desired spreading consistency, if necessary. Once cookies have slightly or completely cooled, spread the top of each cookie with the icing. Allow icing to become firm and dry before storing (time may vary, and may take 1 or more hours). Store in an air-tight container.
Other recipes you might like: