New Recipes
This page is dedicated to the most recently added recipes on Love That Food. Each time a
new recipe is added to this website, it will be featured on the
Home Page
, and any previously featured recipes will be moved to this page. This New Recipes page will always show the last 10 newly added recipes, with the most recent recipe added to the top, as the last recipe is dropped from the bottom. If you reached this page via a search engine while searching for a particular recipe but don't see that recipe here, that is because that recipe was likely recently dropped from the bottom of the list. However, you can still easily find that recipe and other similar recipes simply by using the links under "Recipe Categories" displayed on the left side of every page, or by clicking other various links found all throughout LoveThatFood.
New Recipes ▼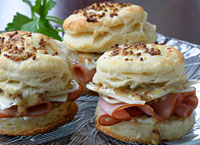 Sliders are always the perfect party food! These
Ham and Cheese Honey Mustard Sliders
and fun and simple yet quite elegant, and are extremely easy to whip up. These attractive and tasty little sandwiches feature flaky biscuits lightly spread with a butter and green onion mixture. The biscuits are,then filled with deli-sliced ham and swiss cheese, and are topped with a very tasty honey mustard sauce made with stone-ground mustard.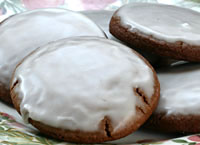 Most of us associate the flavors and aromas of molasses, ginger and cinnamon with the Fall and Winter seasons, when Halloween, Thanksgiving and Christmas holidays call for festive baked desserts. We don't need a holiday to enjoy these distinctive
Iced Molasses Ginger Cookies
! What makes these cookies especially unique is the addition of sour cream to the cookie dough, which gives them a moist and chewy texture.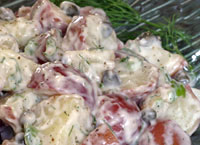 This
Lemon Dill Potato Salad with Capers
features small red potatoes that are boiled until tender, then quartered or halved. The potatoes are cooled, then gently tossed with some mayonnaise, chopped chives, capers and freshly squeezed lemon juice. Add a little salt and pepper to taste, and you've got a fun potato salad with mild citrus flavor that will beautifully accompany sandwiches, chicken, fish or any meat dish!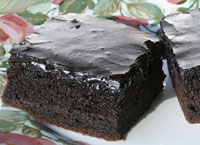 These
Buttermilk Brownies
are simply irresistable! Tthe texture of the cake portion of these brownies is very moist and full of cocoa flavor, while the frosting gives them rich, moist and chocolatey flavor. Both the cake and the frosting are made with buttermilk, and both recipes are so easy! It's a good thing this Buttermilk Brownie recipe makes a big batch of brownies, because as fast as they dissappear, you're going to need a lot!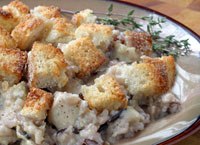 This
Chicken and Wild Rice Casserole recipe
has a creamy, cheesy consistency and flavor, and the rice and toasted Parmesan sourdough bread cube topping give it lively texture! This casserole will please all ages and leave big hunger feeling very satisfied. Along with all the other tasty ingredients, this casserole recipe features chunks of chicken breast and chopped artichoke hearts, making a fabulous combination of flavors.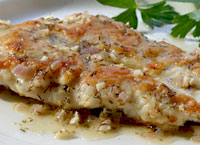 If you're looking for a quick and easy chicken breast recipe that has great flavor and appeals to all ages, you'll definitely want to give this recipe a try! This
Lemon Herbed Chicken
recipe is super easy to make and has fabulous light and fresh flavor. Chicken breasts are dredged in flour, fried in a skillet until golden, then a lemon sauce is quickly cooked in the skillet in just minutes and drizzled over the chicken.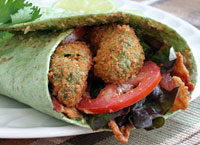 If you enjoy BLT sandwiches, you'll want to give these
BLT Wraps with Fried Avocado
a try! These BLT wraps feature flour tortillas coated with a tangy chipotle, lime spread mixed with fresh cilantro and finely chopped pepitas (pumpkin seeds), The wraps are then filled with crisp bacon, tomatoes, red leaf lettuce and crispy panko-coated and fried avocados. The crispy fried avocado slices and tangy spread add fabulous crunch and flavor!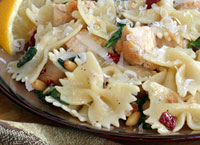 It's nice to know there are healthy pasta recipes that aren't over-loaded with calories! This light and healthy pasta dish is freshly flavorful and can be served warm or chilled.
Pesto Chicken Pasta
features bow tie pasta combined with an easy pesto sauce featuring fresh basil leaves, diced sun-dried tomatoes, minced garlic and pine nuts. Drizzle with some lemon juice and top with freshly grated Parmesan cheese.for the perfect final touch!
Does the idea of making cheesecake sound a little too involved and time-consuming to you? Well, these
Lemon Cheesecake Bars
will ease your mind, because they are one of the easiest cheesecake recipes you'll ever encounter! These quick and easy and incredibly irresistable lemon cheesecake bars are mixed in a blender and baked in a flaky crust, then topped with a mildly sweetened sour cream topping.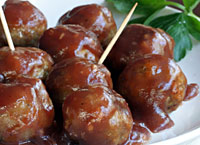 Meatballs with Cranberry Glaze
have a festive and tangy flavor, and are great for any occasion. This recipe calls for ground pork, but you can certainly use other ground meat, such as lean ground beef, ground turkey or ground chicken. These meatballs make a great Thanksgiving appetizer (especially if made with ground turkey), because the sauce is made with cranberry sauce and seasoned with spices found in pumpkin pie.
Don't see the recipe you're looking for...?


That's probably because that recipe was recently dropped off the bottom of this list after enough new recipes were added above it. The recipe you're looking for is still here, and can easily be found by clicking one of the appropriate links under "Recipe Categories" on the upper left side of this or any other page.