Lemon Dill Potato Salad with Capers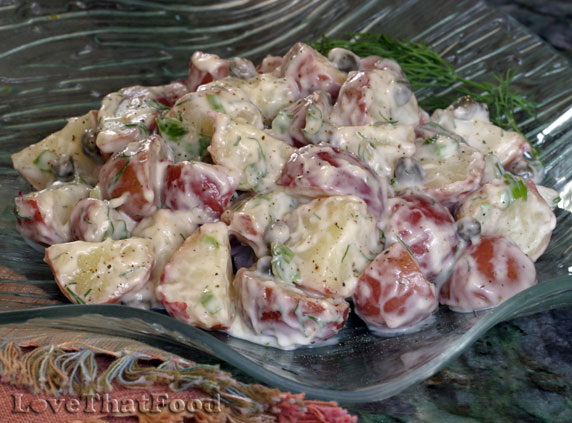 Tips:
Red or golden baby potatoes or a combination of both may be used. When cutting the potatoes, dipping the knife into a glass of water as needed will remove starch from knife and make cutting easier. If preferred, 1 cup of frozen peas may be substituted for the capers, simply by placing the peas in a collander over the boiling water you use for cooking your potatoes and steaming them for 45 seconds.
Suggestion:
Delicious as a side dish for lunch or dinner.
Potato salad is always an easy and inexpensive way to create a tasty side dish, whether it be for lunches, picnics or as a dinner
side dish. There are a few varieties of potatoes that can be used, such as red potatoes, golden potatoes (both also available in small baby sizes) and Russet potatoes, and there are endless ways to prepare your potato salad to give it those flavors and textures you especially enjoy.
This Lemon Dill Potato Salad with Capers features small red potatoes (also sometimes referred to as new potatoes, small potatoes and baby potatoes) that are boiled until tender, then quartered or halved (depending on their size). The potatoes are cooled, then gently tossed with some mayonnaise, chopped chives, capers and freshly squeezed lemon juice. Add a little salt and pepper to taste, and you've got a fun potato salad with mild citrus flavor that will beautifully accompany sandwiches, grilled, baked or fried chicken, fish or any meat dish!
Ingredients
3 pounds small red or golden potatoes
2 tablespoons freshly chopped fresh dill
2 tablespoons chopped fresh chives
1 cup mayonnaise
2 tablespoons capers
2 tablespoons fresh lemon juice
salt and pepper to taste
Directions
Place potatoes in a large saucepan filled with cold salted water filled to 1 1/2 to 2 inches above potatoes. Heat to a boil, then immediately reduce heat to medium (at a gentle boil) and cook for about 20 minutes, or until a toothpick or tines of a fork pierce potatoes fairly easily.

Drain in a collander and allow to cool for a few minutes. When cool enough to handle, cut potatoes into halves or quarters (depending on size of each potato). (Tip: Dipping your knife into a cup of water will remove build-up onthe knife and make cutting the potatoes easier.) Transfer potatoes to a large mixing bowl, then add dill, chives, mayonnaise and capers. Drizzle with lemon juice and toss gently to coat. Season with salt and pepper to taste.
Other recipes you might like: