Lemon Dill Potato Salad with Capers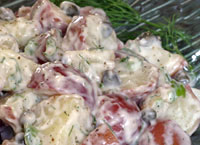 Tips:
Red or golden baby potatoes or a combination of both may be used. When cutting the potatoes, dipping the knife into a glass of water as needed will remove starch from knife and make cutting easier. If preferred, 1 cup of frozen peas may be substituted for the capers, simply by placing the peas in a collander over the boiling water you use for cooking your potatoes and steaming them for 45 seconds.
Suggestion:
Delicious as a side dish for lunch or dinner.
Ingredients
3 pounds baby new or golden potatoes
2 tablespoons freshly chopped fresh dill
2 tablespoons chopped fresh chives
1 cup mayonnaise
2 tablespoons capers
2 tablespoons fresh lemon juice
salt and pepper to taste
Directions
Place potatoes in a large saucepan filled with cold salted water filled to 1 1/2 to 2 inches above potatoes. Heat to a boil, then immediately reduce heat to medium (at a gentle boil) and cook for about 20 minutes, or until a toothpick or tines of a fork pierce potatoes fairly easily.

Drain in a collander and allow to cool for a few minutes. When cool enough to handle, cut potatoes into halves or quarters (depending on size of each potato). (Tip: Dipping your knife into a cup of water will remove build-up onthe knife and make cutting the potatoes easier.) Transfer potatoes to a large mixing bowl, then add dill, chives, mayonnaise and capers. Drizzle with lemon
juice and toss gently to coat. Season with salt and pepper to taste.