Spinach and Cheese Stuffed Chicken Breasts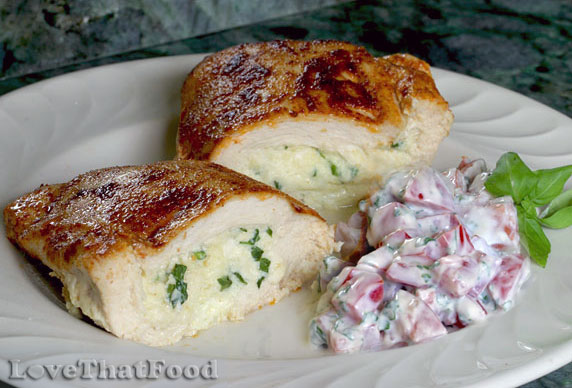 Tips:
Baked chicken breasts may be served whole (click
here
to see image), sliced in half (as shown in above photo), or cut into sliced medallions (click
here
to see image).
Suggestion:
Delicious served with a side of
bread
.
Baked stuffed chicken breasts are always a great dish to serve, because aside from being typically healthy, they come in a wide variety of recipes using all kinds of delicious ingredients for the stuffing. The stuffing for this stuffed chicken breast recipe features three types of cheeses (ricotta, Parmesan
and cottage cheese) and chopped fresh spinach leaves (frozen spinach may also be used) and a savory butter topping to add flavor and color to the tops of the chicken breasts. A tasty and healthy sauce (which is actually more like a healthy salad) is served on the side, and is made with plain yogurt, chopped tomatoes and finely chopped fresh basil leaves, giving it vibrant color, fresh flavor and a moist consistency that beautifully accomapnies the cheese-stuffed chicken breasts. This stuffed chicken breast recipe is super easy to put together, and takes 30 minutes or less to cook in the oven. Leftovers are easily reheated in the oven at 375° F. for 10-15 minutes or until heated through, or can be microwaved (covered) for 1 to 1 1/2 minutes. Frozen spinach can be used instead of fresh spinach if desired - just be sure to defrost and gently squeeze out any excess water between a few paper towels before stirring into the cheeses.
Ingredients
Basil Yogurt Sauce

6 tomatoes, chopped into 1/2-inch cubes
1/4 cup plain yogurt
1/2 oz. fresh basil leaves, finely chopped
1/4 teaspoon red wine vinegar
1/8 teaspoon salt
dash white pepper



Chicken and Stuffing

1/2 cup chopped fresh spinach (or frozen spinach, thawed and drained)
1/2 cup ricotta cheese
1/4 cup grated Parmesan cheese
1/4 cup cottage cheese
2 eggs, beaten
1/4 teaspoon salt
4 boneless, skinless chicken breast halves
Butter Topping (recipe follows)



Butter Topping

1/2 cup butter, melted
1 teaspoon paprika
1/4 teaspoon garlic powder
1/4 teaspoon salt
1/4 teaspoon white pepper
Directions
Preheat oven to 350° F.
Basil Yogurt Sauce
Combine Basil Yogurt Sacue ingredients in a small mixing bowl. Cover and place in the refrigerator until about 5 minutes before you're ready to serve chicken.
Spinach and Cheese Stuffing
To a medium mixing bowl, add spinach, ricotta, Parmesan, cottage cheese, eggs and salt and gently toss until combined. Cover and place in the refrigerator.
Butter Topping
In a small mixing bowl, comine all Butter Topping ingredients. Set aside.
Prepare and Stuff the Chicken
One at a time, place chicken breasts on a work surface and cover with a sheet of plastic wrap. Pound down each chicken breast using a
meat pounder
to an even 1/2-inch thickness. Using a sharp knife, make about a 2-inch-long slice into the center of one side of each chicken breast, slicing into the chicken almost to the edges to create a pocket for stuffing the chicken (be careful not to slice all the way through the sides or bottom of the chicken).
Using a spoon, carefully spoon 1/4 of the mixture into the pocket of each chicken breast, using the spoon to push the mixture all the way into the chicken. Place chicken breasts on a baking sheet. Seal the 2-inch opening with a few toothpicks (simply by sticking the toothpicks vertically through the opening). Pour about 2 tablespoons of the Butter Topping into a separate small bowl to use later after chicken is cooked (Important: Do not dip your pastry brush into this Butter Topping). Using a
pastry brush
, brush the tops of chicken breasts generously with the main bowl of Butter Topping.
Bake chicken breasts in the oven for 20-30 minutes or until chicken appears golden and thoroughly cooked. Lightly brush cooked chicken breasts with the reserved 2 tablespoons of Butter Topping. Serve whole, sliced in half or sliced into medallions with Basli Yogurt Sauce on the side.
Other recipes you might like: