Salmon with Grape Sauce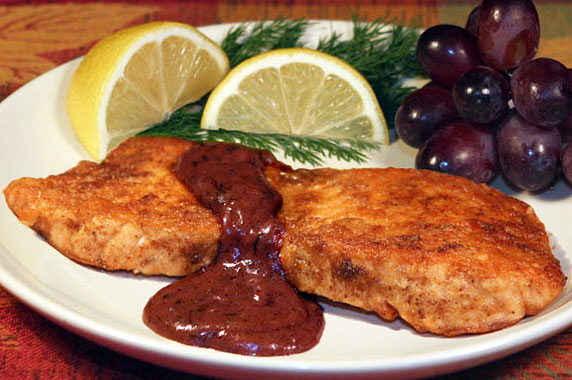 Tips:
Nonstick skillets are not recommended for this recipe, as the bits and pieces that stick to the bottom of the skillet are needed for flavor.
The beauty of salmon is that it can be wonderfully complimented with a large variety of sauces. The sauce for this Salmon with Grape Sauce recipe is uniquely delicious and
vivid with color. It begins with a base of 100% concord grape juice, chicken stock and light cream. Fresh dill and freshly squeezed lemon juice are then added to the sauce to counter the sweetness provided by the juice, giving this sauce an intriguingly wonderful flavor balance that tastes exquisite with salmon. The salmon fillets are dusted with seasoned flour, and briefly sautéed in a small amount of butter. The remnants in the skillet are deglazed with the grape juice and chicken stock, giving additional flavor to the sauce. As the photo above shows, the filets have a very light and dusty coating , which adds a nice outer texture to each bite. If you're looking for an easy new sauce recipe that will add rich color and uniquely fresh flavor to your salmon fillets, this is a wonderful dish to try
Ingredients
1/4 cup flour
salt and pepper
4 4-6-oz. salmon fillets
3 tablespoons butter
1/2 cup 100% concord grape juice
1/2 cup chicken broth
1/2 teaspoon chopped fresh dill
1/4 cup half and half
2 teaspoons freshly squeezed lemon juice
lemon slices, sprigs of fresh dill and/or grapes for garnish (optional)
Directions
In a shallow bowl or pie pan, combine flour with salt and pepper to taste. Dust salmon fillets with flour mixture to coat. In a large skillet (any type except nonstick) melt butter. Add dusted salmon fillets and cook over medium-high heat for 3-10 minutes per side, or until fish is opaque or just beginning to flake in the thickest part. Transfer fillets to a warm plate and cover with aluminum foil to keep warm.

Add grape juice and broth to skillet and whisk, loosening all browned particles from the bottom of the pan. Add dill, half-and-half and lemon juice. Continue whisking over medium-high heat, just until slightly thickened. Season to taste with salt and pepper. To serve, spoon sauce over salmon fillets. If desired, garnish with lemon slices, grapes and fresh dill.
Other recipes you might like: