Salmon with Maple Mustard Sauce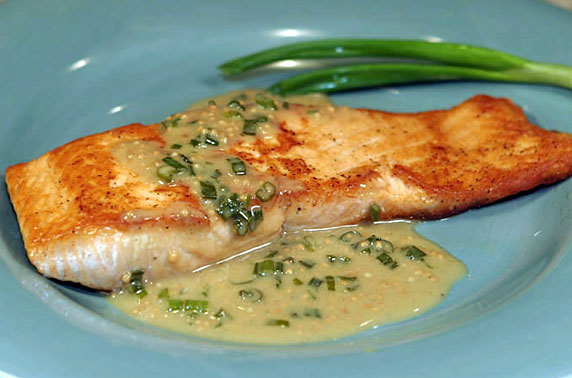 Suggestion:
Delicious with a wild rice mix and vegetables or a salad.
This Salmon with Maple Mustard Sauce recipe is an incredibly delicious gourmet dish that is amazingly easy to make. This quick and elegant
fish recipe features salmon fillets that are sautéed in a skillet to a beautiful color in just minutes, then drizzled with a delicious sauce that perfectly compliments these tender fillets.
The Maple Mustard Sauce is made with pure maple syrup and Dijon mustard, giving this sauce recipe the perfect blend of sweet and tangy flavor. Minced garlic, mustard seeds and chopped scallion greens are added to the sauce, adding color, texture and amazing flavor!
A light and fluffy side of wild rice mix goes beautifully with this salmon dish, and tastes great when mingled with the salmon and sauce. A salad or almost any vegetable also accompanies this salmon recipe nicely. 
Ingredients
Sauce

3 tablespoons water
2 tablespoons pure maple syrup
2 tablespoons Dijon mustard
2 cloves garlic, minced
2 teaspoons mustard seed
1/4 cup chopped scallion greens
dash of salt
dash of pepper



Salmon

4 6-oz. salmon portions, skin removed
salt
pepper
1 tablespoon olive oil
Directions
Sauce
In a small mixing bowl, whisk together water, maple syrup, mustard, garlic, mustard seed and scallions. Set aside near cooking area.
Salmon
Pat salmon dry with a paper towel and lightly season to taste with salt and pepper. Heat oil in a large skillet on medium-high (do not heat until oil begins smoking). Place salmon fillets in the skillet and sauté on each side, turning once, just until cooked through (about 3-4 minutes per side). If necessary, cook fillets in 2 batches. Transfer cooked filets to a serving platter and cover with aluminum foil to keep warm.
Remove skillet from heat and allow to cool for 1 minute. Pour sauce into skillet and stir to heat through (about 30 seconds). Drizzle sauce over salmon fillets.
Other recipes you might like: