Italian Potato Salad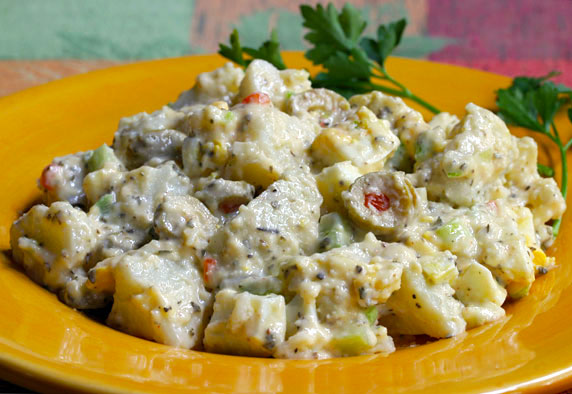 Tips:
Green or black ripe olives may be used.
Suggestion:
Delicious as a side to any lunch or dinner dish.
Italian Potato Salad features your favorite potatoes (photo shows this potato salad recipe made with Russet potatoes, though golden,
red or other potatoes may be used) mixed with Parmesan cheese, oregano, green onions, celery, sliced green pimento-stuffed olives (ripe black olives may also be used) and hard-cooked eggs, blended with a creamy Italian dressing mixture made with olive oil, mayonnaise and a blend of herbs and spices that gives this potato salad a deliciously tangy and lively flavor!
As with most potato salads, this recipe is very easy to whip up. To make this recipe even easier, the potatoes are cooked with the skins on, making the skins easier than ever to peel off with your fingers once slightly cooled. Tip: If you prefer ripe black olives to green olives, (green olives have a tangy, salty flavor, while ripe black olives have a sweeter flavor), you can certainly use sliced ripe black olives with this recipe (though the green olives add a nice tanginess to this salad!).
Ingredients
Potato Salad

2 lbs. potatoes (about 3 large or 5-6 medium)
1/4 cup finely-chopped green onion
1 /2 cup finely chopped celery
1/2 cup sliced pimento-stuffed green olives (or ripe olives)
1/2 cup grated Parmesan cheese
1 tablespoon dried oregano leaves
2 hard-cooked eggs, coarsely chopped
1 teaspoon salt
1/2 teaspoon black pepper



Creamy Italian Dressing

1/4 cup oil
3/4 cup mayonnaise
1 tablespoon lemon juice
1 tablespoon distilled vinegar
1/4 teaspoon salt
1 teaspoon sugar
1/8 teaspoon dry mustard
1/8 teaspoon onion salt
1/8 teaspoon paprika
1/8 teaspoon dried oregano leaves
dash ground thyme leaves
1 clove garlic, minced
Directions
Potato Salad
Heat enough water in a large saucepan to cover potatoes and bring to a boil. Add potatoes with skins still on. (Tip: If at any time more water is needed to cover potatoes, add more hot water.) Heat to boiling again, then reduce heat and cook on a low boil for 30-40 minutes or just until potatoes are able to be easily pierced with a fork (be careful not to overcook). Drain potatoes and allow to cool.
While potatoes are cooling, in a medium mixing bowl, whisk together Creamy Italian Dressing ingredients. Cover and refrigerate dressing while potatoes are cooling.
After potatoes have cooled, peel off skins (skins should come off easily using your fingers), then cut into 1-inch cubes. Transfer potatoes to a large mixing bowl. Add green onion, celery, olives, Parmesan cheese, oregano, eggs, salt and pepper. Using a rubber spatula or wooden spoon, gently toss just until evenly combined. Pour Creamy Italian Dressing over potato mixture and gently stir again just enough to eveny coat. Cover bowl or transfer salad to a container with a lid and refrigerate for 2 hours or more. Serve.
Other recipes you might like: