Midwestern Potato Salad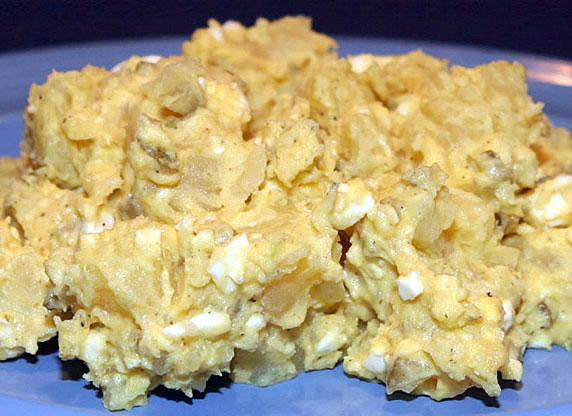 Tips:
Avoid overcooking potatoes.
This Midwestern Potato Salad recipe derives its name from the fact that folks from the Midwest routinely whip up a batch of potato salad much like this recipe, and could probably do so while blindfolded. This recipe was
passed on to me by a relative living in Missouri, who made this potato salad for every family event she hosted.
This recipe begins with a some Russet potatoes that are boiled whole with the skins on. Once cooked and cooled, some hard-cooked eggs are added to the potatoes. A seasoned creamy base of mayonnaise, prepared yellow mustard and white vinegar are whisked together with some diced sweet pickles (some folks use sweet pickle relish, but this recipe uses whole sweet pickles, allowing for larger bites of pickle). Perhaps the beauty of this Midwestern Potato Salad is how the sweetness of the diced pickles is countered by the tanginess of mustard and vinegar, as well as the texture and flavor (and famously bright yellow color) that is added from yolks of the hard-cooked eggs. Of course, this potato salad is perfect for picnics, barbeques and as a sandwich side.
Ingredients
2 1/2 lbs. Russet or other potatoes



Dressing

1 cup mayonnaise
2 tablespoons prepared yellow mustard
1 tablespoon white vinegar
1/4 cup sweet pickles, diced (or sweet relish)
1/4 teaspoon celery salt
1/4 teaspoon onion powder
salt and pepper to taste
Directions
Preparing Potatoes
Cut each potato in half. Fill a large pot with enough water to completely cover potatoes and bring to a boil. With potato skins on, place potatoes in boiling water and reduce heat to medium or medium high to produce a gentle rolling boil. Allow to cook for about 30 minutes or just until you are able to easily pierce potatoes with a sharp knife. (Note: Don't overcook potatoes, or you might end up with mashed potato salad.) Drain water from potatoes using a colander. Transfer potatoes to a work surface and allow to cool. Remove skins and cut into bite-size chunks. Place potatoes chunks in a large bowl and set aside.
Dressing
In a small mixing bowl, combine mayonnaise, mustard, white vinegar, sweet pickles or relish, celery salt and onion powder. Whisk together until smooth and creamy. Pour dressing over potatoes, and toss gently to thoroughly coat. Store in refrigerator and serve cold.
Other recipes you might like: