Blue Cheese Potato Salad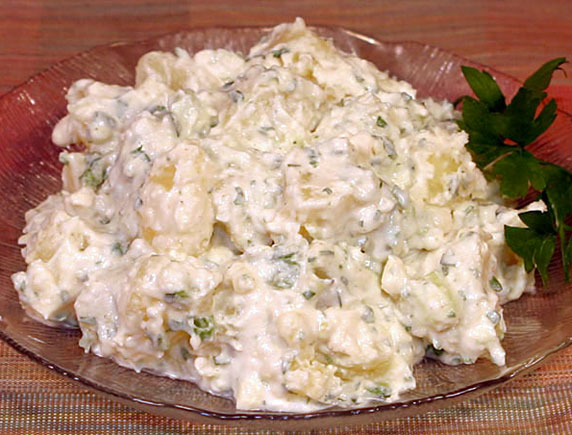 Cook Time:
About 25 minutes
Tips:
Gold Yukon potatoes are recommended with this recipe.
Suggestion:
If desired, garnish with sprigs of parsley, radish roses and/or hard-cooked egg slices.
Blue Cheese Potato Salad is a distinctive and delicious potato salad that stands apart from the rest. Real chunks of crumbled blue cheese are featured in this potato salad recipe along with sour
cream, green onions, celery, wine vinegar and fresh parsley. This potato salad has the unique flavor and tanginess you can only get from true blue cheese.
The photo above shows Blue Cheese Potato Salad made with Gold Yukon potatoes. Gold Yukons are wonderful for a large variety of potato salads because they have just the right moisture content. You can certainly use any other type of potato (such as Russets or red potatoes), but I personally recommend choosing Gold Yukon potatoes for this recipe. Another great thing about Gold Yukons is that after they have been boiling for a short while, their skins begin to naturally fall off when they are nearly finished cooking. This leaves you with one less task to do (peeling). This fabulous potato salad recipe is great for all kinds of occasions. So, if you're a blue cheese fan, introduce your family, friends or guests to a new potato salad experience!
Ingredients
8 medium potatoes (Gold Yukon are recommended)
1/2 cup chopped celery
2 tablespoons chopped parsley
3 stalks green onions and tops, chopped
2 1/2 teaspoons salt
1/4 teaspoon coarse ground pepper
1 pint sour cream
4 oz. blue cheese, crumbled
1/4 cup wine vinegar
Directions
Boil potatoes until just tender (about 25 minutes). Allow potatoes to cool, then peel and cut into bite-size cubes. Transfer potato chunks to a large mixing bowl and add celery, parsley, onions, salt and pepper.

In a small mixing bowl, bowl combine sour cream, blue cheese and wine vinegar and mix until thoroughly combined. Pour blue cheese mixture over potatoes and gently mix until thoroughly combined. Chill in refrigerator for several hours before serving. If desired, garnish with sprigs of parsley, radish roses and/or hard-cooked egg slices.
Other recipes you might like: