Gingerbread Cake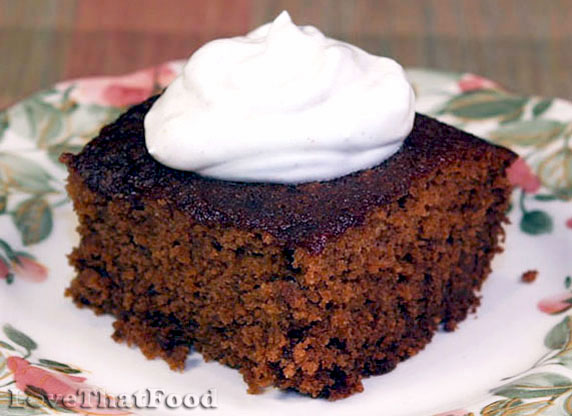 Suggestion:
Serve with topping provided in recipe below or with whipped cream or vanilla ice cream.
This Gingerbread Cake recipe produces a moist and delicious cake featuring the distinct flavors of molasses and ginger. Molasses, brown sugar and honey are used as the sweetening agents, while also giving this cake a uniquely delicious flavor that is quite different from (and not as obviously sweet as) traditional cake recipes. This recipe also goes a step further than most gingerbread
cake recipes, using minced crystallized ginger as well as grated fresh ginger root, maximizing the flavor of this festive dessert.
Depending on your love for molasses, you can follow the recipe, using equal parts of molasses and honey for a more mild molasses flavor, or simply omit the honey and double up on the molasses which will give this cake a darker color and stronger molasses flavor. (Both will produce a delicious result!)
Gingerbread Cake can be served with a variety of toppings, and is often accompanied by a scoop of vanilla ice cream or whipped cream (or both). This cake recipe includes a simple yet wonderful topping recipe made with equal parts of vanilla yogurt and whipped cream flavored with hints of cinnamon and ginger . Although Gingerbread Cake is traditionally served around the holidays - especially Thanksgiving and Christmas - this cake is fabulous any time of year!
Ingredients
Cake

3 cups all-purpose flour
2 teaspoons ground ginger
1 1/2 teaspoons cinnamon
1 teaspoon salt
1/4 teaspoon ground cloves
1 tablespoon baking soda
2 tablespoons minced crystallized ginger
1 cup (2 sticks) butter, softened
1 cup packed brown sugar
2 tablespoons freshly grated ginger root
1/2 cup molasses (or 1 cup molasses and omit the 1/2 cup honey)
1/2 cup honey
2 eggs, lightly beaten
1 cup water



Topping (optional)

Multiple Servings

2 cups blended vanilla yogurt
1 8-oz. tub whipped topping (such as Cool Whip)
1/4 teaspoon ground ginger
1/8 teaspoon cinnamon



Individual Servings

equal parts blended vanilla yogurt and whipped topping from tub
dash of ground ginger
dash of cinnamon
Directions
Cake
Preheat oven to 325° F.
In a medium mixing bowl, sift together flour, ground ginger, cinnamon, salt, cloves and soda. Whisk in crystallized ginger and set aside.
In an electric mixer bowl, add butter, brown sugar, freshly grated ginger root, molasses and honey and beat on low-medium until thoroughly blended and creamy. Gradually add flour mixture and beat on low until thoroughly blended. Continue beating on low speed while slowly adding water. Beat until thoroughly mixed.
Pour into a 9x13-inch baking dish and bake for 45 minutes or until a toothpick inserted into center comes out clean. For the cleanest cuts, allow to cool for about 30 minutes before cutting. If you prefer your cake warm, expect a little flaking when slicing into pieces. (Cake can also be briefly heated in microwave just before serving.)
Topping
Gently stir yogurt and whipped topping in a mixing bowl with a rubber spatula until thoroughly blended, then stir in ginger and cinnamon. Spoon over servings of warm or cooled cake.
Other recipes you might like: