Four Bean Soup with Smoked Sausage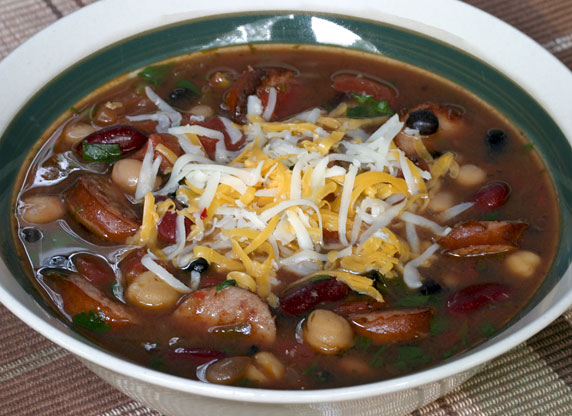 Tips:
If you can't find S&W Ready Cut Tomatoes (with diced green chiles and spices), you can substitute 2 14.5-oz. cans of diced tomatoes and 1 4-oz. can diced green chiles, while also adding to your soup 1 teaspoon dried onion flakes (or 1/4 teaspoon onion powder), 1/4 teaspoon garlic powder and 1 teaspoon apple cider vinegar. If preferred, Navy beans, pinto beans or other favorite canned beans may substituted for any of the beans used in this recipe.
Suggestion:
Pepper jack cheese may be used for garnishing instead of Monterey jack. Delicious served with a side of
Bran Cornbread
or
Cornbread
.
If you're looking for an easy soup recipe that tastes delicious and takes only minutes to cook on the stove, this soup is for you! This warming and delicious bean and sausage soup recipe features four types of canned beans (white beans, garbanzo beans, black beans and kidney beans), giving this soup lively color and great hearty flavor. (Note: Navy beans, pinto beans, pinquinto beans or other canned beans may be used instead of any beans used in this recipe.) Bite-size slices of smoked sausage are lightly browned, then added to the soup along with a couple cans of diced tomatoes with green chiles and spices and a few seasonings. (Note: I recommend using S&W Ready-Cut Tomatoes with
Diced Green Chiles & Spices because they come equipped with the right blend of flavors that gives this soup its salsa-style flavoring. However, if you can't locate this particular canned product in your grocery store, see "Tips" above for easy substitutions.)
One of the secrets to this soup being so quick and easy to prepare is the fact that the broth is created from the juices that come with the canned beans and tomatoes (in addition to only a small amount of water added). Aside from some quick browning of the sausage, this sausage and bean soup recipe is as simple as opening five cans and pouring them into the soup pot! Once the smoked sausage, beans and tomatoes are combined, this soup actually cooks in as little as 10 minutes - though you can keep it simmering on the stove (covered) for up to 1 hour if you like. This soup is delicious on its own, but when you top it with some grated cheddar and/or pepper jack (or Monterey jack) cheese, this soup can't be beat! Additional garnishes, such as avocado slices and/or dollops of sour cream placed over the tops of each serving of soup also taste wonderful with this soup. Lastly, if you're looking for the perfect bread accompaniment, I highly recommend
Bran Cornbread
topped with butter and drizzled with honey, because it also offers hearty flavor as well as nutritional benefits.
Ingredients
Soup

14 oz. to 1 lb. smoked sausage, cut into bite-size slices
2 14.5-oz. cans S&W Ready-Cut Tomatoes Diced with Green Chiles & Spices (or see
"Tips")
1 15-oz. can kidney beans, undrained
1 15-oz. can black beans, undrained
1 15-oz. can garbanzo beans, undrained
1 15-oz. can white beans, undrained
1/2 cup water
1 teaspoon (or 1 cube) chicken bouillon
1/4 teaspoon salt
1/4 teaspoon ground black pepper
1/4 cup chopped fresh cilantro



Garnishes

Monterey jack cheese, grated
cheddar cheese, grated
sliced avocado (optional)
dollops of sour cream (optional)
Directions
In a large soup pot over medium heat, cook sausage slices until lightly browned (about 5 minutes total), turning as necessary to evenly cook all surfaces. Drain any excess fat.

Add diced tomatoes with diced green chiles and all beans (with liquid), water, chicken bouillon, salt, pepper and and cilantro to soup pot. Stir to combine. Bring soup to a boil, then immediately reduce to low. Simmer for 10 minutes (or cover and cook up to an hour, if desired), stirring occasionally. Garnish with grated cheeses, avocado slices and/or dollops of sour cream, if desired.
Other recipes you might like: