Crab Cakes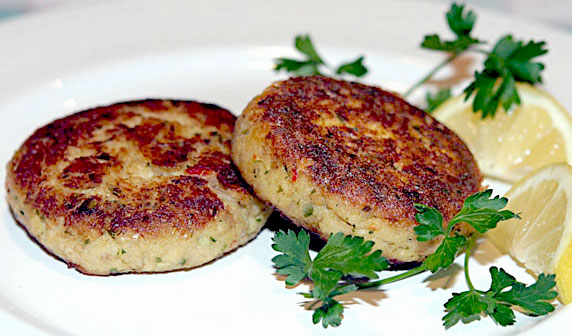 Tips:
Serve with lemon wedges, tartar sauce, or any other sauce you prefer.
This Crab Cake recipe (also sometimes referred to as Crab Patties and Crabcakes) is a fun and tasty way to prepare crab (and spread your dollar!).
All you need is some crabmeat (you can use fresh, canned, frozen or even imitation crab with this recipe), sourdough bread, mayonnaise, parsley, egg, pimientos, green onions and some seasoning. These ingredients are quickly mixed together, then formed into 4 patties. The crab patties are then placed under the broiler or fried in a skillet with a little oil for just 5 minutes per side until they turn golden brown and crispy on the outside. These crab cakes are perfectly accompanied by a side of tartar sauce, cocktail sauce, or any other sauce you prefer, as well as some lemon wedges for a little spritz of freshly squeezed lemon juice over the cakes. (Tartar sauce is a white and creamy sauce with a mildly tangy flavor and can sometimes be found with horseradish mixed in, while cocktail sauce is made with tomatoes and has a nice tangy and spicy flavor.) Crab Cakes are also a great seafood dish for kids.
Ingredients
1 pound crabmeat (fresh, canned, frozen, or imitation crabmeat)
2 slices sourdough bread, crusts removed
2 tablespoons mayonnaise
2 teaspoons fish seasoning (like Old Bay)
1 tablespoon fresh flat (Italian) parsley, finely chopped
1/2 teaspoon prepared yellow mustard
1 egg, beaten
1/2 teaspoon pimientos, diced
1 green onion, finely diced
Directions
Break bread into small pieces and place in medium mixing bowl. Add mayonnaise, crab seasoning, parsley, mustard and egg. Stir in crabmeat. (Note: You might need to break up and/or shred imitation crab to make it easier to mix with the other ingredients.)

Shape mixture into 4 patties. Broil for 10 minutes, turning patties over half-way through cooking process -OR- fry crab cakes in 1-2 tablespoons oil in a large skillet over medium heat until golden brown on both sides (about 5 minutes per side).

Serve with your favorite sauce (such as tartar sauce or cocktail sauce) and/or wedges of lemon.
Other recipes you might like: