Chicken Minestrone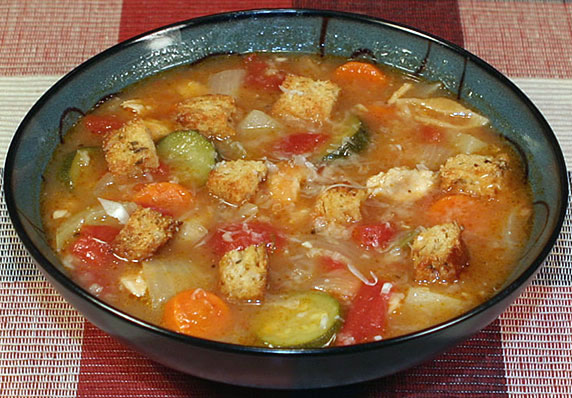 Yield:
About 5 1/2 quarts
Tips:
Chop up all vegetables and place together in a large bowl until ready to add to soup pot. Stir soup up before you dish out each bowl because rice tends to settle toward the bottom of pot.
Suggestion:
Top with home Garlic Parmesan Croutons and grated Parmesan.
Chicken Minestrone is a soup that comes fully loaded! Minestrone is an Italian soup, and is traditionally known for containing many ingredients. This soup recipe uses chicken, but it can also be made with beef or with no meat at all, ala vegetarian style. This Chicken Minestrone recipe starts with sautéed onion and garlic, then combines cooked chicken breast
(you can use dark meat as well) and an assortment of vegetables incluing potatoes, carrots, celery, zucchini, tomatoes, garbanzo beans, pasta shells and long grain rice. Plenty of water is added, and all these wonderful ingredients cook together for about an hour, allowing the flavors to mingle, creating a fabulous broth. One of the beauties of this soup is how all vegetables are cut into large chunks, making every bite hearty and satisfying. This soup can be ready in just 1 1/2 hours, but you can certainly simmer it for a little longer if needed (just keep an eye on the vegetables so they don't get too soft). This recipe makes a large pot of soup that can serve a crowd, but if you don't need to make a large batch, simply divide this recipe in half. Chicken Minestrone is fabulous topped with homemade Garlic Parmesan Croutons, adding a crunchy texture and even more flavor. Top off with grated Parmesan cheese and a side of bread, and you've got a fabulous, satisfying and healthy dish.
Ingredients
1 tablespoon olive oil
1 onion, cut into bite-size chunks
3-4 cloves garlic, minced
2 lbs. chicken breast, shredded into bite-size pieces
3 carrots, thick-sliced
3 stalks celery, thick-sliced
2 medium potatoes, thick-sliced
2 zucchini squash, thick-sliced
1 28-oz. can whole tomatoes
1 cup uncooked long-grain rice (or other rice if desired)
1 1/2 tablespoons salt
1/2 teaspoon pepper
1 1/2 teaspoons ground thyme
3 quarts water (12 cups)
1 cup uncooked medium or large pasta shells
1 15-oz. can garbanzo beans, drained, rinsed and any skins removed)
croutons (for garnish)
Parmesan cheese (for garnish)
Directions
Heat olive oil in a large soup pot, soup kettle or Dutch oven. When oil is hot, add onion and garlic and reduce heat to medium. Cook, stirring frequently until tender but not browned (about 3-4 minutes).

Pour tomatoes into a bowl and cut each tomato into quarters. Add tomatoes and their liquid and all other ingredients except pasta shells and garbanzo beans to soup pot and bring to a boil. Reduce heat to a bubbling simmer (low heat). Cover and cook for 1 hour. Add pasta shells and garbanzo beans and cook until pasta shells are cooked and tender.

Serve with croutons and grated Parmesan cheese for topping.
Other recipes you might like: