Chicken and Wild Rice Soup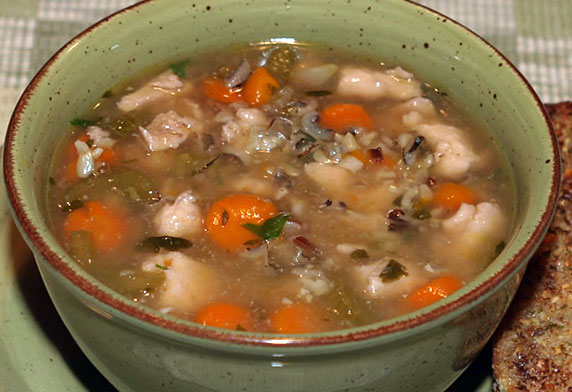 Chicken soup can be prepared in an endless variety of ways. Chicken & Wild Rice Soup is a popular soup due to its well-loved basic ingredients. Though you can probably find canned prepared Chicken & Wild Rice soups in most grocery stores, the canned version will never come close to the deliciousness of this homemade
version (you also get more for your dollar with homemade). Chicken & wild rice soup and chicken noodle soup often have similar basic ingredients (except for the rice vs. the noodles), though the flavor and texture is distinctly different.
This Chicken & Wild Rice Soup is incredibly delicious and very easy to put together. Wild rice blends are simply a mixture of wild rice with other types of rice such as brown, long grain, wehani or black japonica. Most grocery stores carry various blends, and you can use any blend you prefer. The above photo shows this soup made with a combination of wild rice, brown rice, sweet brown rice, wehani and japonica. Each rice has its own flavor and contributes to the overall wonderful flavor of this soup. This soup is great served with a side of bread (photo shows a slice of whole grain bread with homemade garlic butter) and a salad and can be stored in the refrigerator or freezer for later use.
Ingredients
1/4 cup diced shallots
1 tablespoon minced garlic
2 large chicken breasts (about 3 cups shredded)
1 49-oz. can chicken broth
1 cup water
1 chicken bouillon cube
1 cup wild rice blend (any blend is fine, as long as it contains some wild rice)
4-5 sprigs of fresh thyme
2 fresh sage leaves
1 tablespoon olive oil
1 cup sliced carrots (about 2 medium carrots)
1 cup sliced celery pieces (about 2 stalks celery)
1/2 teaspoon salt
1/4 teaspoon pepper
2 tablespoons chopped fresh parsley
Directions
In a large (about 4-quart) soup pot or Dutch oven, heat oil. Once oil is hot, add shallots and garlic and reduce heat to low-medium. Cook for about 3-4 minutes or until shallots are tender and garlic is beginning to turn a light golden brown (do not overcook garlic).

Add to the soup pot the chicken breasts, chicken broth, water, chicken bouillon, rice, thyme, sage leaves, carrots, celery, salt and pepper. Bring to a boil, then reduce heat to low. Cover and simmer for 50 minutes.

Remove chicken breasts from soup (allowing to cool enough to handle if you prefer) and place on a cutting board. Shred or cut chicken into bite-size pieces, then return to soup. Stir chopped parsley into soup and cook for about 2 more minutes. Serve.
Other recipes you might like: