Broiled Salmon with Orange Butter Sauce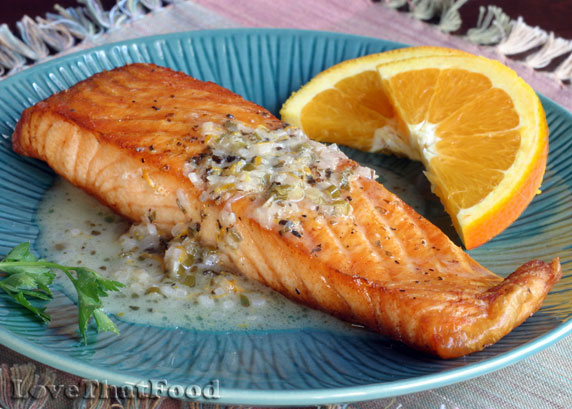 Cook Time:
About 10 minutes
Tips:
Salmon may be filleted or butterflied.
In addition to being delicious, versatile and one of the healthiest seafoods available, salmon is always easy to prepare and cook, whether broiling, baking or grilling is the preferred cooking method. Quick and easy salmon recipes are plentiful because more often than not, all it takes to turn a salmon fillet into something spectacular is a tasty marinade used prior to cooking the salmon or flavorful sauce drizzled over the salmon after it's been cooked. In this case, a wonderful Orange Butter Sauce that's prepared on the stovetop while your salmon is cooking is what gives broiled salmon fillets such elegant and refreshing flavor!
Many of us have at one time or another tried salmon or other types of fish served with some sort of lemon butter sauce. Lemon butter sauce is popularly used with chicken
as well as fish, because while the lemon adds light and refreshing flavor, the butter gives the chicken or fish moisture and of course, that wonderful buttery taste. Lemon is also often used with fish to minimize the occasional fishy flavor and/or aroma that sometimes accompanies different types of seafood. This broiled salmon recipe comes with a sauce that features that fresh and lively citrus flavor, using orange zest rather than lemon juice or lemon zest. In addition to the orange zest and butter, the sauce is simmered with some dry white wine, sweet basil (or marjoram), minced green onions and a dash of cayenne pepper. The result is an elegant sauce with fresh, tangy and mildly sweet orange flavor and the perfect balance of herbs and seasonings.
When it comes to great quick and easy salmon recipes, it's almost always about the sauce; because whether you broil, grill or bake salmon, cooking salmon almost always takes just a few minutes. A wonderful sauce can turn an otherwise pleasant salmon dinner into something fabulous! The fresh and elegant Orange Butter Sauce that accompanies this broiled salmon recipe takes just minutes to prepare on the stovetop, and is prepared while the salmon is broiling. So, even if you're pressed for time, this tasty and impressive broiled salmon recipe is just minutes away!
Ingredients
Salmon

4 salmon fillets
1 tablespoon olive oil



Orange Butter Sauce

1/4 cup white wine vinegar
1/4 cup dry white wine
3 tablespoons minced green onions (white parts only), onions or shallots
1 tablespoon minced chives (may use green parts of green onions)
1/2 cup butter, chilled and cut into pieces
1 teaspoon dried basil or marjoram
1 teaspoon orange zest
dash cayenne pepper
salt
Directions
Salmon
Brush the salmon fillets with oil and broil (or grill) until cooked through (about 3 minutes per side).
While the salmon is cooking, prepare the Orange Butter sauce (recipe follows).
Orange Butter Sauce
Place the vinegar, white wine and minced white parts of green onions in a small saucepan. Bring to a boil, then reduce heat to medium and slowly boil the mixture until liquid is reduced to about 1 tablespoon (2-3 minutes). Reduce heat to low, then slowly whisk in the butter, piece by piece until melted. Add chives, basil (or marjoram) and orange zest. Season cayenne pepper and salt to taste.
Spoon equal amounts of the sauce over each salmon fillet and serve immediately. Serve with orange slices, if desired.
Other recipes you might like: