Baked Salmon with Pistachio Basil Butter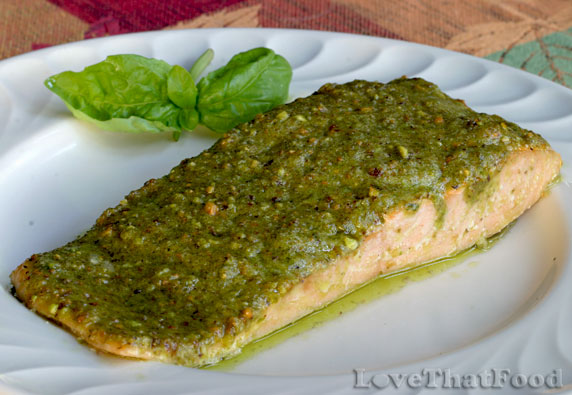 Suggestion:
Delicious served with a side of
vegetables
or a
salad
and a side of rice,
bread
, or baked potatoes or a baked potato dish.
If you're looking for healthy salmon recipes, baked salmon is not only a healthy option, it produces moist, tender, flaky and incredibly delicious results! Salmon is as versatile as it is healthy and delicious. It can be baked, smoked, steamed or grilled, and can be seasoned with endless seasonings or served or topped with fabulous sauces. It
can be served in salads and dips as well.
This baked salmon recipe might look something like a salmon pesto recipe, and this is partially true! Baked Salmon with Pistachio Basil Butter features salmon fillets that are baked with a fabulous topping made with fresh basil leaves, pistachios, garlic, lime juice, butter and a dash of hot pepper sauce, such as Tabasco (which is optional, depending on your appreciation for a hint additional spice). This mixture is easily ground up in a
food processor
, and is simply spread over the top of salmon fillets. If you enjoy cooking with wine, you can add a little dry white wine to the baking dish during the last portion of baking the salmon for a little added flavor, though this step is completely optional and a matter of personal taste.
This healthy baked salmon recipe not only has fabulous flavor, it presents itself with vibrant color and texture. To top it off, it's incredibly easy to prepare!
Ingredients
Pistachio Basil Butter

1/4 cup pistachios
10 large fresh basil leaves
1 garlic clove
1/2 cup butter, softened
1 teaspoon lime juice
salt and pepper
hot pepper sauce (optional)



Salmon Fillets

6 6-oz. portions fresh skinless salmon fillets
1/2 cup dry white wine (optional)
fresh basil leaves (for garnish)
Directions
Pistachio Basil Butter
Blend pistachios, basil leaves and garlic clove in a
food processor
until finely chopped. Cut butter into 4 pieces. Add butter and lime juice to mixture and blend until fully incorporated. Season to taste with salt, pepper and hot pepper sauce and briefly process for a few more seconds to mix. Set aside.
Salmon Fillets
Preheat oven to 400°F.
Place salmon fillets in a buttered 9 x 13-inch
baking dish
and season to taste with salt and pepper. Bake for about 10 minutes or until thinner parts of fillets appear opaque.
Spread about 2 tablespoons of Pistachio Basil Butter on each fillet. If using wine, pour wine into the baking dish, avoiding pouring over tops of fillets. Continue baking until thickest parts of fillets are opaque in the center (about 5 minutes). If desired, garnish with additional basil leaves. Serve immediately.
Other recipes you might like: