Kitchen Supplies
Just as a good set of tools can help a carpenter get the job done more quickly and accurately and with less frustration, kitchen cooks benefit substantially from a good set of essential kitchen supplies. While restaurant kitchens are often stocked with the best commercial kitchen equipment available, home kitchen cooks can also turn their kitchens into a highly functional, productive and
inspiring environment, simply by stocking them with some helpful kitchen equipment. The list of kitchen equipment displayed on these Kitchen Supplies pages includes cooking supplies, baking supplies, kitchen gadgets, cookware and other kitchen equipment that will help make your experience in the kitchen a more efficient and enjoyable one. These kitchen supplies represent those I already own or would personally purchase if I were ready to upgrade, but there are certainly plenty of brands and styles from which to choose to suit your own personal needs, taste and budget. If you are shopping for one of the items shown below or would simply like to view more information, you can do so by clicking any of the image or text links for each item. If you're looking to save time, you can also immediately purchase any item shown simply by clicking the "buy now" button in the pop-up windows that appear when you hover over any image or text link. New kitchen supplies are added to these pages regularly, so please visit again soon for new kitchen equipment ideas!
Kitchen Supplies ▼
These glass casserole dishes feature convenient large ergonomic handles that help with inserting into and removing from the oven. The large large 3-quart oblong casserole dish comes with an easy snap-on pastic cover for easy storage and transporting. The other sizes are 2-quart, 8-inch square and 1.5 quart loaf dish. These baking dishes have smooth contours for easy cleaning.
More Information:
Casserole Dish Set
This round clear glass casserole dish is attractive as well as functional, and cooks food evenly. it has a 1.5-quart capacity and measures 9" in diameter and 3" deep. This casserole dish is oven, microwave and dishwasher safe. The shape of this dish allows you to view what you cook from all angles. It is attractive enough to set on the table, and is great for refrigerating and transporting.
More Information:
Round Glass Casserole Dish
These 2 rectangular stoneware casserole dishes come in a variety of colors and are highly functional and attractive enough to display on the table. The larger 1 1/4-quart dish measures 10-1/2 by 7-Inches and the smaller 16-oz. dish measures 7 x 5 inches. The enamel finish resists chipping, scratching, and staining. These dishes are safe to use in oven, microwave, refrigerator, and freezer.
More Information:
Casserole Dish (Stoneware)
Cast iron cookware has been around for hundreds of years. Cast iron skillets are extremely durable and have superior heat retention and distribution. They can be used to quickly brown foods on the stovetop, then can be transferred to the oven to continue baking the food, withstanding the heat of the oven. Cast iron skillets are also great for outdoor use, such as camping.
See more information:
Cast Iron Skillet (15-inch)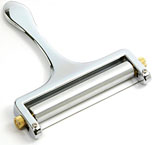 Cutting slices of cheese can be a bit challenging when using a knife, because the knives often stick to the cheese and can't always provide very thin slices. This cheese slicer tool works wonderfully for slicing thin slices of cheese. It's small and takes up very little space in your drawer. It also has an adjustable feature that allows you to vary the slice thicknesses.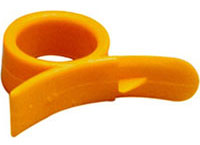 Citrus-peeling tools are often overlooked, but are very useful, inexpensive, and small enough to store in a drawer. They are generally made of plastic and come in various styles, most having a little protruding piece of plastic that cuts through orange, grapefruit or other citrus fruit skins so you can easily remove them. Citrus peelers also eliminate the risks associated with knives.