Spiced Pumpkin Cookies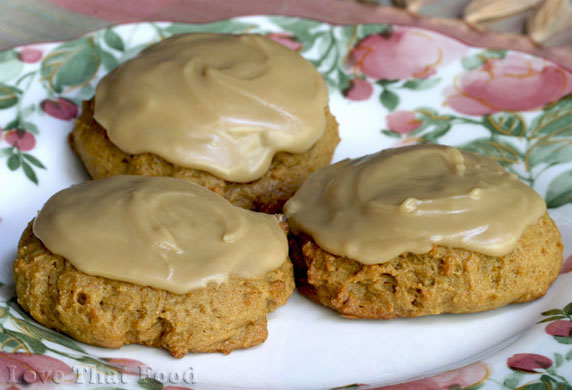 Yield:
About 5 dozen cookies
Cook Time:
8-12 minutes (oven temperatures may vary)
Tips:
To achieve a smooth and glossy icing: Be sure to sift powdered sugar. Icing must be slightly warm and fairly runny. If icing cools and becomes too firm for spreading, heat on high in microwave in a microwave-safe bowl for about 5 seconds (may repeat this process as needed). If after reheating icing still seems too thick, stir in a few drops of whipping cream.
Suggestion:
Perfect served around the Halloween, Thanksgiving and Christmas holidays!
When Autumn approches and gradually turns into Winter, many of us are searching for great holiday cookie ideas for those holidays that come toward the end of the year, such as Halloween, Thanksgiving and Christmas. True, these Spiced Pumpkin Cookies are perfect for the holidays, but they are so good, they should be enjoyed any time of year! These moist, soft and chewy pumpkin cookies are flavored with canned pumpkin, pumpkin spice and orange zest, and have a texture somewhere in between the chewiness of a cookie and the softness of cake. These cookies would be good enough on their own, but the buttery brown sugar and confectioners sugar icing makes them burst with flavor! The batter for these Spiced Pumpkin Cookies is placed in the
refrigerator for a few hours before baking them (or overnight), so this cookie recipe can be prepared in advance, then stored in the refrigerator until you're ready to pop them in the oven. A few tips for a successful smooth and shiny icing: The icing is quickly heated in a saucepan on the stove, so it's best to prepare it just before you apply it to the cookies. It's also best to apply the icing to the cookies while the icing is warm and spreadable, because this is what allows the icing to melt into a smooth and shiny coat. If the icing begins to harden while you're icing the cookies, simply place a portions of the icing in a microwave-safe bowl and heat it for about 5 seconds, then spread it on the cookies while warm. Continue heating small portions of the icing this way if necessary. If the icing seems to be drying out or thickening a bit too much, simply stir in a few drops of whipping cream.
Remember, while these cookies are truly delicious any time of year, make sure you keep them in mind when Autumn approaches! When the leaves are turning beautiful colors of red, yellow and brown and stores are beginning to stock bins of pumpkins, this is the perfect time to bake a batch of these festive cookies. Of course, these Spiced Pumpkin Cookies will continue to be the perfect cookie (alongside some pumpkin or apple pie) for Halloween, Thanksgiving and Christmas desserts as well!
Ingredients
Cookies

1/2 cup butter (1 stick), softened
1 1/2 cups firmly packed brown sugar
3/4 cup canned pumpkin
1 egg
1 tablespoon grated orange zest
1 1/4 cups all-purpose flour
1 1/4 cups whole wheat flour
1 teaspoon pumpkin pie spice
1 teaspoon baking soda
1/4 teaspoon salt
2 cups chopped walnuts (optional)



Icing

1/2 cup butter (1 stick)
1 cup firmly packed brown sugar
1/4 cup whipping cream
1 tablespoon light corn syrup
1 cup sifted confectioner's sugar
Directions
Cookies
Cream butter and brown sugar in an electric mixer bowl until well-blended (may appear like coarse crumbs). Add pumpkin, egg and orange zest and beat until smooth.
In a medium mixing bowl, combine all-purpose flour, whole wheat flour, pumpkin pie spice, baking soda and salt. Add dry ingredients to butter, sugar and egg mixture and mix until fully blended, stopping once to scrape sides and bottom of bowl to incorporate all ingredients. (Note: If using walnuts, remove mixing bowl from electric mixer and manually stir in walnuts.) Cover cookie dough and place in refrigerator to chill for 4 hours or overnight.
When ready to bake, preheat oven to 375° F. Drop cookie batter by tablespoonfuls (about 1 1/4 inches in diameter) 2 inches apart on a greased baking sheet. Using your fingers, gently press down on each cookie to slightly flatten (to about 1/2-inch thick). Bake 8-12 minutes or just until bottoms or outer edges are beginning to darken slightly. Transfer cookies to a cooling rack to completely cool.
Icing
Once cookies have cooled, begin preparing icing. Melt butter in a heavy medium saucepan over medium heat. Stirring constantly, add brown sugar, whipping cream and corn syrup. Continue to cook until mixture comes to a boil. Boil for 1 minute, then remove from heat. Pour mixture into a heat-resistant medium bowl. Add sifted confectioners sugar and beat (by hand or using an electric
handheld mixer
) until completely blended and smooth. Apply to tops of cooled cookies, spreading almost to the edges. Allow icing to harden (about 1 hour or so - times may vary). Store in an air-tight container. (Tip: It's best to place a sheet of waxed paper in bewteen stacked layers of cookies to prevent icing from sticking to bottoms of other cookies.)
Other recipes you might like: