Grilled Squash Parmesan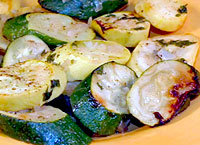 Tips:
Use mittens when opening packets, as foil will be hot and hot steam will escape.
Suggestion:
Delicious served with any
BBQ
dish, a side of
bread
, and/or
Grilled Corn
if another side dish is preferred.
Ingredients
1 medium-sized fresh zucchini
1 medium-sized yellow squash
1 tablespoons minced fresh onion (optional)
4 teaspoons wine, chicken broth or water
4 fresh basil leaves, diced
dashes seasoned salt
dashes pepper
4 teaspoons freshly grated Parmesan cheese
Directions
Have ready 4 sheets of aluminum foil (about 12 inches long). Cut zucchini and yellow squash into thick slices (about 1/2 to 5/8-inch thick). Divide sliced zucchini and yellow squash evenly among the 4 foil packets. Sprinkle with liquid, herbs, seasonings and
cheese. Fold packets, sealing top and sides, making sure top seal is folded down flat against packet. Place on grill and cook, turning often. Cook for 3-6 minutes on each side, depending on preference of doneness. To check doneness, use mittens, as foil will be hot and hot steam will escape.