Red Potato Salad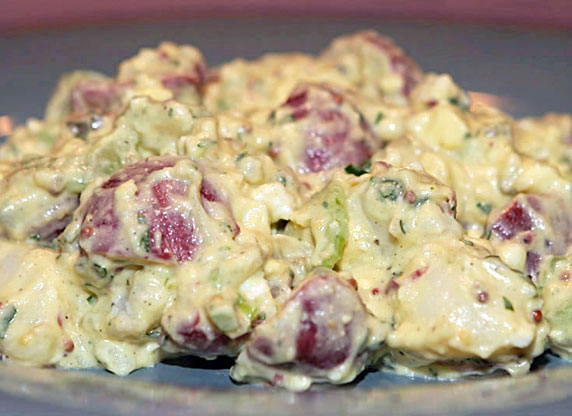 Tips:
Gold Yukon potatoes may also be used, but red potatoes are recommended for optimum texture and color.
Suggestion:
Great for barbeques and picnics or family get-togethers. Goes well with
Four Bean Salad
.
Red Potato Salad is creamy and delicious and just as pleasing to the eye!
This potato salad features quartered small red potatoes hard-cooked eggs, sliced celery, sliced green onions and chopped fresh parsley, tossed with a delicious yellow-tinted creamy dressing, producing a wonderful blend of flavors. The dressing is easily made by combining mayonnaise, two types of mustard (grain mustard and prepared yellow mustard), diced whole sweet pickles (or sweet pickle relish), rice or white vinegar and some salt and pepper to taste. Small red potatoes (opposed to large red potatoes) are perfect with this potato salad (with the skins left on) because every chunk of potato adds rich red color, while the skins are also thin and tender. Red Potato Salad is great as a side dish for most any main course, picnics, barbecues and any other social event.
Ingredients
Salad

2 lbs. small red potatoes (keep skins on), quartered
1 cup mayonnaise
4 hard-boiled eggs
2 stalks of celery, thinly sliced
3 green onions (or 1/3 cup), thinly sliced
1/4 cup fresh flat parsley, chopped



Dressing

1/4 cup grain mustard
1 tablespoon regular yellow mustard
1/2 cup sweet pickle relish or diced sweet pickles
2 tablespoons rice or white vinegar
salt and pepper to taste
Directions
Salad
Place eggs in a pan of cold water and heat until boiling. Cover pan with a lid and turn off the heat. Allow eggs to sit on the burner (that you've turned off) for 20 minutes. Once done, remove eggs from water and allow to cool.
While the eggs are cooking, clean the potatoes with a vegetable brush and water. Fill a two-thirds of a 2-quart pan with water, add a few shakes of salt to the water and bring to a boil. Gently drop the potatoes into the water and cook on a gentle boil (medium heat) for 25 minutes. Stab one potato with a fork to make sure potatoes are done. Remove potatoes from water and allow to cool. Cut potatoes in quarters and place in large mixing bowl.
Peel hard-boiled eggs and place in a medium-sized bowl. Smash eggs with a potato masher. Add to the potato mixture the eggs, sliced celery, green onion and parsley. Gently toss.
Dressing
In a medium-sized mixing bowl, combine all dressing ingredients and stir or whisk until well blended. Pour dressing into bowl of potatoes and herbs mixture and gently mix with curved rubber spatula or wooden or plastic spoon.
Other recipes you might like: