Glazed Orange Graham Cake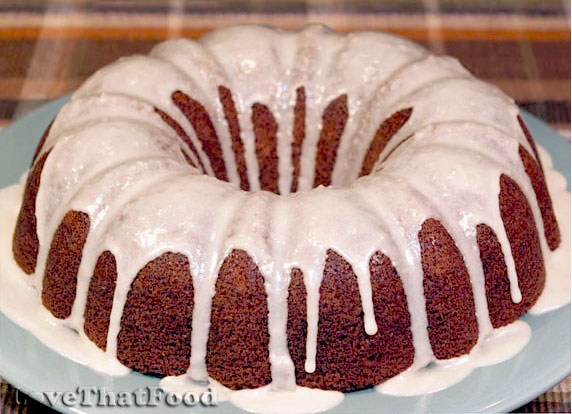 Tips:
If you prefer more glaze when serving, simply make another batch and serve on the side with a serving spoon.
Suggestion:
Cake can be topped with nuts if desired (photo shows cake made without nuts).
This is a fabulous moist and spongy bundt cake recipe that is great for any occasion and has a festive flavor that is perfect for the Thanksgiving and Christmas holiday season. The decorative and eye-pleasing shape of this richly-colored cake is provided by a bundt pan (also known as a fluted pan or tube pan). The most commonly shaped bundt cake pan produces a cake like the one shown in the above photo,
but there is quite a variety of bundt cake pan shapes from which to choose. The wonderful flavor and texture of this cake begins with graham cracker crumbs, orange juice and orange zest and a small amount of cinnamon. Brown sugar is used as the main sweetening ingredient, which gives this cake (and many other baked desserts) more substance and texture as well as flavor.
The glaze for this graham cracker and orange-flavored cake starts with a foundation of powdered sugar, milk and a little butter (traditional for many glazes and icings), but adds a little brown sugar, giving this glaze even more flavor. As you can see by the photo, the recipe for the glaze provides plenty to drizzle over the top and down the sides of this cake, but if you enjoy a little extra glaze for each serving, you can easily make a double batch and serve the extra glaze in a small serving bowl along with the cake for those who might want to drizzle a little extra over their slice. This cake can also be topped with nuts if desired (see recipe).
Ingredients
Cake

2 cups all-purpose flour
1 cup graham cracker crumbs
1 cup brown sugar, packed
1/2 cup granulated sugar
1 teaspoon salt
1 teaspoon baking powder
1 teaspoon soda
1/2 teaspoon cinnamon
1 cup butter (2 sticks), softened
1 cup orange juice
1 tablespoon grated orange zest (peel)
3 eggs
1/4 cup chopped nuts for topping (optional)
Glaze (recipe follows)



Glaze

2 tablespoons brown sugar
1 tablespoon plus 2 teaspoons milk
1 tablespoon butter
3/4 cup powdered sugar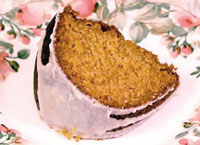 Shown sliced.
Directions
Cake
Preheat oven to 350° F.
In a large bowl, whisk together flour, graham cracker crumbs, salt, baking powder, soda and cinnamon. Set aside.
In an electric mixer bowl, combine butter, brown sugar, granulated sugar and beat on medium until blended and creamy. Add orange juice, orange zest and eggs and beat at medium speed until blended (about 3 minutes).
Generously grease a 12-cup fluted bundt pan or a 10-inch tube pan.
Pour mixture into greased pan. Bake for 45-50 minutes or until wood toothpick or sharp pointed knife inserted in center comes out clean. Cool up-right in pan for 15 minutes. Invert onto serving plate and allow to cool completely. Once cooled, drizzle Glaze over cake. (Optional: Sprinkle with 1/4 cup chopped nuts.)
Glaze
In a small saucepan, heat brown sugar, milk and butter just until melted. Promptly remove from heat. Add powdered sugar and blend until smooth.
Other recipes you might like: