Broiled Salmon with Mustard Dill Sauce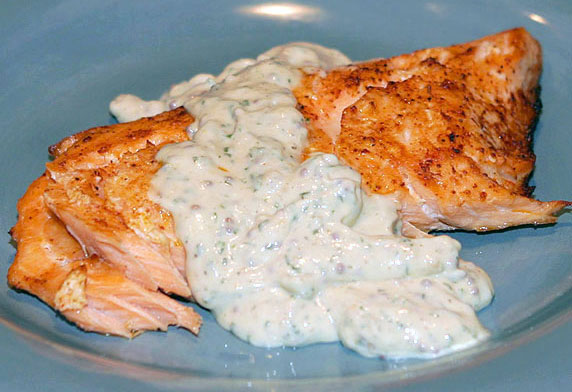 Yield:
About 1 1/2 cups sauce or 6-8 servings
Tips:
Store in refrigerator for future use unil the expiration date on the sour cream container.
Broiled salmon takes on a new flair with this tangy
and flavorful Mustard Dill Sauce! This tasty sauce has a consistency similar to that of tartar sauce, though the flavor is pleasantly different with the delightful and distinctive flavor of fresh dill. Mustard Dill Sauce gets its thick and creamy consistency by mixing a combination of yogurt (or mayonnaise) and sour cream. Its tart and lively tangy flavor is derived from lemon juice, fresh dill and both dry mustard and grainy mustard, along with a modest amount of sugar. This Mustard Dill Sauce recipe compliments broiled salmon beautifully and makes about 1 1/2 cups, which easily serves 6 to 8 guests. Any leftovers can be stored in the refrigerator until the earliest expiration date of the yogurt or sour cream. This sauce is also just as tasty with other types of fish.
Ingredients
salmon (enough to serve 4-8 people, depending on your preference)


1 tablespoon dry mustard
2 tablespoons fresh lemon juice
3/4 cups plain yogurt or mayonnaise
1/3 cup sour cream
1/4 cup grainy mustard
2 tablespoons finely chopped fresh dill
1 teaspoon light brown or granulated sugar
salt and pepper to taste
Directions
Broiled Salmon
Cook salmon however you prefer, or prepare as follows:
Line baking sheet or roasting pan with heavy duty aluminum foil. Place salmon on foil and apply a small amount of olive oil over top of salmon (spread around with a soft brush, flexible rubber spatula or fingers). Sprinkle with salt and pepper and if desired, any additional flavorings or spices for fish (such as Cajun). Broil for about 7 minutes or until very lightly browned (as shown in picture). Turn salmon over with a large spatula. Brush again with olive oil, salt and pepper and spices and cook for another 5-7 minutes or until salmon begins to turn a light brown.
Mustard Dill Sauce
Mix dry mustard with lemon juice in a small bowl until smooth and set aside. Add the yogurt or mayonnaise, sour cream, grainy mustard, dill and sugar to the mustard and lemon mixture and whisk until well blended. Salt and pepper to taste.
Other recipes you might like: