Acadian Peppered Shrimp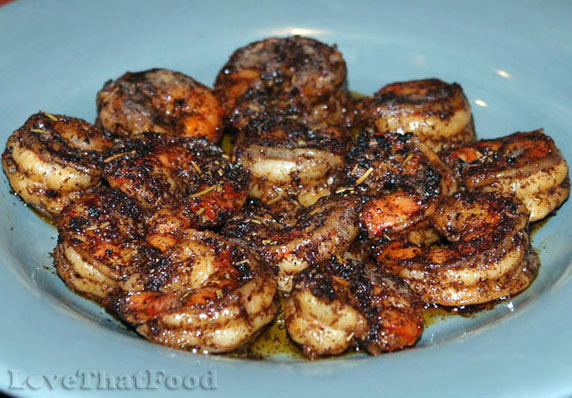 Suggestions:
Delicious with rice and a side of vegetables.
Take a walk on the wild side with this easy and incredibly delicious peppery Cajun shrimp recipe! For some, Acadian Peppered Shrimp might classify as a somewhat spicy shrimp recipe due to the liberal amount of ground
black pepper and inclusion (albeit modest) amount of cayenne pepper, but the flavor is so outstanding, that it might overshadow the peppery taste to even the most fragile taste buds. This dish has a buttery, peppery flavor with a perfect blend of various herbs and spices that will take you on a flavor vacation!
Why is this Cajun dish called "Acadian" Peppered Shrimp? In short, "Acadian" refers to Acadia, a name given to some lands that were a portion of the French Colonial Empire of New France, in the northeastern area of North America back in the 1600's to early 1700's. People occupying these lands were referred to as Acadians, but after resettling in Louisiana, they were called Cajuns. So, whenever you hear of an Acadian or Cajun dish, they are basically one in the same. This Acadian (or Cajun) shrimp recipe is fabulous served alone, or over long pasta, such as fettuccine, linguine or spaghetti.
Ingredients
1 1/2 sticks butter
2 tablespoons ground pepper
1 tablespoon plus 1 teaspoon (4 teaspoons) fresh lemon juice
1 teaspoon garlic, minced
1 1/2 bay leaves, crumbled
1 1/2 teaspoons fresh rosemary, minced OR 1/2 teaspoon dried rosemary, crumbled
1 teaspoon paprika
1 teaspoon fresh basil, minced OR 1/4 t. dried basil, crumbled
1 teaspoon fresh oregano, minced OR 1/4 teaspoon dried oregano, crumbled
1/4 teaspoon salt
1/4 teaspoon ground cayenne pepper
1/4 teaspoon nutmeg, fresh or dried
2 lbs. whole fresh medium or large shrimp, deveined and cleaned
Directions
Devein and rinse shrimp under water.

Melt butter in a large skillet over medium heat. Add all other ingredients except shrimp and cook for about 20 minutes. stirring occasionally. Add shrimp and cook until shrimp turns pink. Place cooked shrimp on serving plate and drizzle sauce over shrimp. Serve over rice if desired.
Other recipes you might like: