Indian Spiced Cauliflower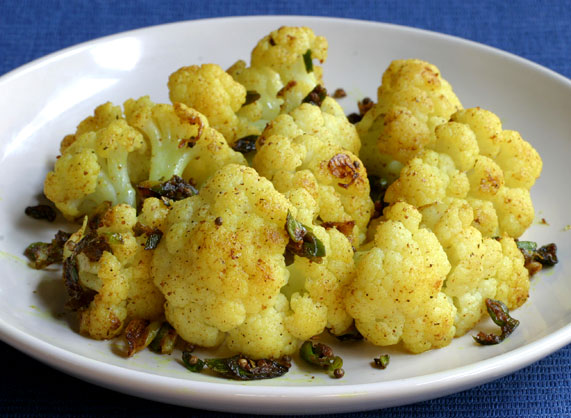 Tips:
Cauliflower may be steamed or blanched prior to stir-frying.
Suggestion:
Serve with a any variety of Indian dishes or any main course, as a healthy snack or as a cold or room temperature salad.
Indian Spiced Cauliflower is an Indian cauliflower recipe that adds unique flavor and color to this bright yet otherwise colorless vegetable. It can be served hot as a vegetable side dish to various Indian main course recipes or any type of main course,
as a healthy snack, or as a cauliflower salad. As a salad, though Indian Spiced Cauliflower can be served chilled, it actually doesn't require refrigeration, so you can pack it up and take it to picnics, parties or other events and safely serve it at room temperature.
The spices this Indian vegetable dish entertains are garlic, turmeric, cumin, coriander and yellow mustard seeds. All spices are used in ground form except the mustard seeds, which give add a nice tender crunch to this dish.
This recipe is truly a cinch, and takes only minutes to prepare. The cauliflowerets are first steamed or blanched for a couple minutes to bring them to a crisp-tender state. The spices are then heated with a little oil in a skillet or wok, and the cauliflower florets are added and stir-fried for 3-4 minutes until they are heated through and coated with the spices.
Recipe▼

Ingredients
1 lb. cauliflower, cut into florets
1 tablespoon oil
1 whole garlic clove
1/2 teaspoon ground turmeric
1 teaspoon ground cumin
1 teaspoon ground coriander
1 teaspoon yellow mustard seeds
12 scallions, thinly sliced at a diagonal
salt and pepper to taste
Directions
To steam cauliflowerets (Note: You may also blanch cauliflower by gently immersing into boiling water, then cooking for 2 minutes.), in a medium-sized saucepan, heat about 1 inch of water to boiling. While water is heating, place cauliflowerets in a vegetable steamer and rinse to clean. As soon as water is boiling, place vegetable steamer with cauliflowerets in saucepan and cover. Steam for 2 minutes, then immediately remove from heat and drain cauliflower in a colander. Set aside.

Heat the oil in a large skillet or wok. Add the garlic clove, turmeric, cumin, coriander, and mustard seeds. Stir well and cover skillet. When you hear the mustard seeds begin to pop, remove cover and stir in scallions. Cook for about 2 minutes to soften, stirring constantly. Season with salt and pepper to taste, then add the cauliflower and stir for 3-4 minutes until completely coated with the spices and heat thorough. Remove garlic clove and serve immediately or chill and serve as a salad (may also be served at room temperature).
Other recipes you might like: