Peperonata Sauce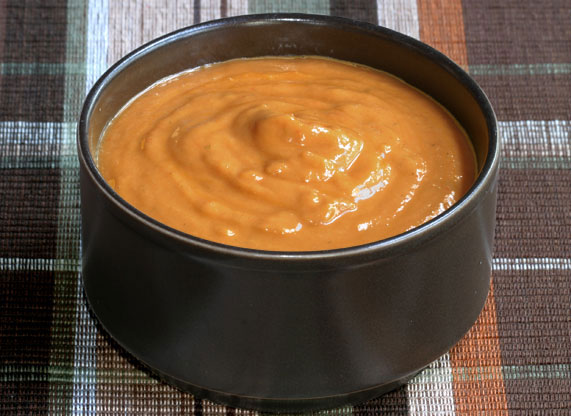 Yield:
About 3 1/2 cups of sauce
Perhaps you're familiar with Peperonata, an Italian main course or side dish traditionally made with red and green bell peppers, onions,
garlic, herbs and seasonings. Peperonata can be served alongside chicken, fish, pork, or most any meat, and tastes great over pasta as well. This richly colored Peperonata Sauce recipe is the sauce version of Peperonata, featuring a combination of sweet red and green bell peppers, skinned tomatoes, onion and basil, all of which are cooked in a skillet until tender, then blended briefly in a blender or food processor until a smooth and creamy consistency forms. This sauce has a very fresh and full flavor that leans on the mildly sweet and savory side. The sweetness of this sauce can be attributed to the naturally sweet red bell peppers, while the savory flavors come from the green bell peppers, onions and tomatoes, garlic, herbs and seasonings. Peperonata Sauce tastes fabulous over meat and pasta dishes, such as
Chicken Peperonata
.
Recipe▼

Ingredients
1/4 cup butter
1/4 cup olive oil
1 large onion, sliced
1 1/4 cups diced green bell pepper
1 1/4 cups diced red bell pepper
1 1/2 cups diced skinned tomatoes
2 teaspoons oil
3 cloves garlic, minced
5-6 fresh basil leaves or 1 teaspoon dried basil
1 teaspoon salt
1/4 teaspoon pepper
Directions
To remove skins from tomatoes: Make a small "X" on tops and bottoms of tomato skins. Place tomatoes in a vegetable steamer over low boiling water, covered. Allow to steam for 5 minutes or until skins begin to loosen. Lift vegetable steamer and place in sink. One by one, peel off loose skins from tomatoes under cold running water.

Heat butter and oil in heavy frying pan until hot. Add onion and sauté over low heat until lightly browned. Add green and red peppers, tomatoes, oil, garlic and basil. Bring to a boil. Reduce heat and stir in salt and pepper. Cover and simmer for about 15 minutes or until vegetables are tender. Pour entire mixture into blender container and blend until smooth. Serve immediately or store in covered container in refrigerator for future use. Serve as a sauce with pork or chicken, such as Chicken Peperonata.
Other recipes you might like: