Frosted Fudgy Chocolate Chip Brownies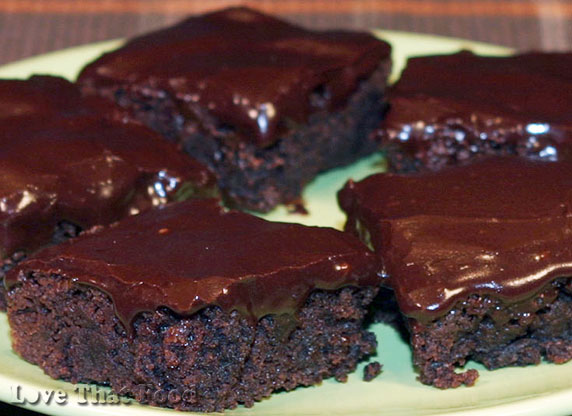 Yield:
16 2-inch brownies
Tips:
If you prefer a less rich brownie, you can omit the frosting. If you store these brownies in the fridge and prefer them warmed, simply reheat in the microwave for 10-20 seconds.
This decadently rich and delicious brownie recipe will make it virtually impossible for you to ever go back to those prepackaged boxes of brownie mix. Once you
realize how easy these fudgy brownies are to make from scratch, how moist they are and how they burst with flavor, the boxed brownie mixes will pale in comparison. While some brownies are so fudgy they actually have a consistency much like fudge candy, others can be very cakey, tasting more like cake than a brownie. These chocolaty brownies fall somewhere in between, with just the right balance of a cakey and fudgy texture. To boost these brownies with even more chocolate flavor, chocolate chips are added to the batter, creating a gooey chocolate chip experience with every bite. To top off this wonderfully decadent dessert, a creamy homemade chocolate frosting is spread over the top. These brownies are delicious with or without frosting, but if you truly want an over-the-top brownie experience, frosted brownies are the way to go
Ingredients
Brownies

2 squares (1 oz. each) unsweetened chocolate
1/2 cup butter
1 cup sugar
2 eggs
1 teaspoon vanilla
1/2 cup plus 2 tablespoons whole wheat flour
1/4 teaspoon baking powder
1/4 teaspoon salt
1/3 cup chocolate chips



Frosting

1 1/2 tablespoons butter
1 1/2 squares (1 1/2 oz.) unsweetened chocolate
1 cup powdered (confectioner's) sugar
1/8 teaspoon salt
2 1/2 tablespoons (2 tablespoons plus 1 1/2 teaspoons) milk
1/2 teaspoon vanilla
Directions
Brownies
Preheat oven to 350° F.
In a small mixing bowl, whisk together flour, baking powder and salt. Set aside.
In 2-quart sauce pan, heat chocolate and butter over low heat, stirring constantly until melted. Remove from heat. Mix in sugar, eggs and vanilla until well blended. Add flour mixture and stir until well-blended. Pour into an 8x8x2-inch greased baking pan. Sprinkle chocolate chips over top, then gently press chocolate chips down into brownie mixture with a fork.
Bake for 20-25 minutes, until a toothpick or sharp knife inserted into center comes out clean. Allow to cool, then spread frosting all over top. Allow brownies to sit for 15-20 minutes to allow frosting to set. Cut into squares and serve.
Frosting
In a small saucepan, heat butter and chocolate over low heat until melted, stirring constantly. Stir in powdered sugar, salt, milk and vanilla and stir until well-blended. Remove from heat and place saucepan into a bowl one-half filled with ice and water (though make sure water does not reach a higher level than saucepan). Continue stirring frosting as it sits in the ice water until it thickens into spreading consistency (about 5 minutes).
Other recipes you might like: