Wasabi Bacon Potato Salad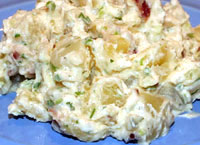 Tips:
Chives may be used instead of green onions.
Suggestion:
Delicious served as a side dish for BBQ's, picnics and with any meat, chicken or seafood dish.
Ingredients
2.5 lbs. Russet, Gold Yukon [or other] potatoes
8 slices bacon
2 cups mayonnaise
2 tablespoons prepared horseradish
1-2 tablespoons wasabi paste
1 tablespoon Dijon-style mustard
1 tablespoon rice vinegar
1 1/2 teaspoons salt
1/2 teaspoon pepper
1/4 cup diced celery
2 tablespoons diced green onions
2 tablespoons finely chopped parsley
Directions
Peel potatoes and cut into quarters. Fill a medium saucepan 2/3 full with water. Bring water to a boil, then add potato quarters. Reduce heat to low medium to a slow, rolling boil. Cover and cook potatoes for about 25 minutes, or just until potatoes are able to be pierced with a fork or sharp knife fairly easily (be careful not to overcook).

While potatoes are cooking, cook bacon in a skillet until crisp, then cut bacon into small pieces and set aside.

In a small mixing bowl, whisk together mayonnaise, horseradish, wasabi paste, mustard, vinegar, salt and pepper. Set aside.

After potatoes are cooked, drain in a colander and allow to cool. Cut potatoes into bite-size chunks and place in large mixing bowl. Add green onions and parsley to potatoes, then add mayonnaise mixture to potatoes and carefully mix to thoroughly blend. Keep chilled in refrigerator.