Salmon with Penne Pasta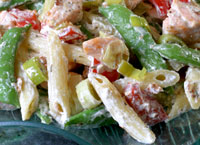 Cook Time:
About 20 minutes
Tips:
Reheat refrigerated leftovers for about 1 minute in microwave, then briefly toss and serve.
Suggestion:
Delicious as a lunch or light dinner, served with rolls or a side of
bread
.
Ingredients
2 cups sour cream
2 teaspoons grated lemon peel
2 teaspoons dried dill weed
4 cups penne pasta
1 tablespoon olive oil (or more as needed)
1 lb. salmon fillet, skinned and cut into 1-inch cubes
1 leek, rinsed and diced
1 red bell pepper, seeded and chopped
2 cups sugar snap peas
salt and pepper to taste
Directions
In a
mixing bowl
, combine sour cream, lemon peel and dill weed.
Stir until thoroughly blended and set aside.

Cook pasta according to package directions or until al dente, then drain in a colander.

Heat olive oil in a large skillet over medium-high heat until hot but not smoking. Add salmon chunks, then cook and stir until salmon lightens in color (about 4 minutes). Remove salmon from skillet and set aside in a bowl.

Add diced leek to the skillet and cook for 1 minute, stirring constantly. Add bell pepper and peas and cook for an additional 3 minutes, stirring constantly.

Reduce heat to medium-low, then add the cooked and drained pasta, salmon and sour cream mixture. Sprinkle with salt and pepper to taste, then stir gently to coat and heat through (about 1-2 minutes). Serve.