Flaky Buttermilk Biscuits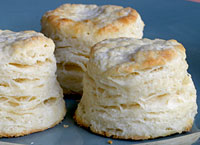 Yield:
14 2 1/2-inch biscuits
Tips:
Photo shows biscuits made with a 2 1/2-inch biscuit cutter. Biscuits may be made with milk rather than buttermilk.
Suggestion:
Serve with butter and jam or preserves or for breakfast using the Biscuits & Sausage Gravy recipe.
Ingredients
3 cups sifted all-purpose flour
4 teaspoons baking powder
1 tablespoon sugar
1 teaspoon salt
3/4 teaspoon cream of tartar
3/4 cup butter (1 1/2 sticks), chilled
1 1/4 cups buttermilk (or milk)
Directions
Preheat oven to 450°F.

Sift flour, baking powder, salt, cream of tartar and sugar into a medium mixing bowl. Cut the butter into cubes (cut the 1 stick of butter into about 4 pieces and the 1/2 stick into 2 pieces) and add to the flour mixture. With a pastry blender or two knives (pastry
blenders are easier), cut up butter to mix in with flour mixture until mixture forms coarse crumbs. Make a well in the center of the flour mixture and add buttermilk to well. Stir quickly with a fork just until dough follows the fork around the bowl and dough is able to be formed into a ball. Transfer the dough to a lightly floured work surface.

Knead the dough gently by repeatedly folding into itself and pressing down (about 4-6 strokes), sprinkling flour over dough and on work surface as necessary to help prevent sticking. Roll or pat the dough to a thickness of 3/4 inch.

Without twisting, cut biscuits by pressing a biscuit cutter into the dough (2 1/2-inch biscuit cutter is recommended). Cut biscuits close together to minimize the need for re-rolling the dough scraps. To prevent the cutter from sticking to the dough, dip it in flour before each cut. After each cutting, lift cutter and gently and remove the biscuit from the cutter by gently shaking into your hand (avoid touching tops and sides of biscuits to help prevent dents). Place biscuits on an ungreased baking sheet about 1 inch apart.

Bake for 10-12 minutes, or until biscuits turn golden brown on top.