Chunky Mexican Pork Stew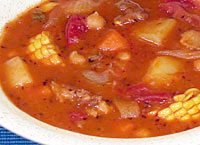 Tips:
If preferred, you can substitute stewing beef for the pork, using beef broth instead of chicken broth.
Suggestion:
Excellent with a side of Cornbread or Bran Cornbread topped with butter and honey and/or warmed tortillas.
Ingredients
1/4 cup all-purpose flour
1 teaspoon seasoned salt
1/4 teaspoon black pepper
2 lbs. pork shoulder (also called pork butt)
1/4 cup oil
1 14 1/2-oz. can chicken broth
1 14 1/2-oz. can stewed tomatoes
2 8-oz. cans tomato sauce
2 crushed large garlic cloves
1 tablespoon oregano
1 teaspoon salt
1 teaspoon cumin
2 teaspoons chili powder
1 large onion
2 large carrots
2 ears corn (yellow or white)
1 15-oz. can garbanzo beans with liquid
Directions
Trim off unwanted fat from pork, then cut into generous bite-size pieces. In a small mixing bowl, whisk together flour, seasoned salt and pepper. Add pork chunks to a large mixing bowl. Coat with flour mixture by adding a little flour mixture at a time while moving the pork pieces around.

Heat oil in a Dutch oven (or large soup pot). When oil is hot, add pork and cook on medium-high until browned, stirring occasionally.

Add chicken broth, stewed tomatoes, tomato sauce, garlic, oregano, salt, cumin and chili powder to pork. Cut onion into 8 wedges and add to stew. Heat stew to boiling, then reduce heat. Cover and simmer on a gentle boil for 1 1/2 hours, or until meat is almost tender.

Cut carrots and corn into 1-inch pieces (or if preferred, you can slice the corn kernels off the cobs before adding it to the stew.) Add carrots, corn and garbanzo beans (with the liquid) to stew. Heat to boiling again, then reduce heat to low. Cover again and simmer on a gentle boil for 30 minutes or until meat and vegetables are tender.