Chicken Curry Casserole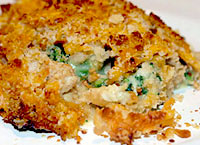 Tips:
Any type of butter crackers may be used for topping.
Ingredients
2 cups cooked, shredded or cubed chicken (bite-size pieces)
8 oz. (or 3 cups) broccoli florets
1 can cream of chicken soup
1/3 cup mayonnaise
1/2 teaspoon curry powder
1 can sliced mushrooms
1 cup cheddar cheese, grated
1 cup butter cracker crumbs (such as Ritz)
1 tablespoon butter, melted
Directions
Preheat oven to 350° F.

Using a vegetable steamer, steam broccoli florets over boiling water for about 3-5 minutes until still fairly firm, but able to be pierced with a fork. Quickly remove florets from heat and place in a large mixing bowl. Add to large mixing bowl chicken, broccoli, soup, mayonnaise, curry powder and mushrooms. Stir to mix well. Pour mixture into a 2-quart casserole dish.

In a separate medium mixing bowl, combine cheese, cracker crumbs and butter. Mix until evenly blended, then spread evenly over top of casserole.

Bake for 30 minutes or until top turns golden brown in color.