Chicken and Bacon Quiche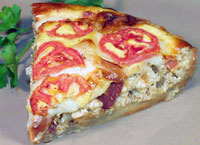 Cook Time:
1 hour, 15 minutes
Tips:
Delicious hot, room temperature or cold. See recipe description and recipe for substitution options.
Suggestion:
Delicious served with a side of fruit and/or potatoes if serving for breakfast. For lunch or dinner, a side of fruit, a salad or a vegetable will accompany this quiche recipe nicely.
Ingredients
1 10 or 11-inch unbaked pastry pie shell (for homemade, see Pie Crust)
1 tablespoon butter
1 medium onion, chopped
1 cup cooked, diced chicken (or turkey)
1/2 lb. bacon, fried, drained and crumbled (reserve 1 tablespoon bacon grease)
1 egg white
4 oz. Swiss (or Gruyere) cheese, thinly sliced
4 eggs
1 egg yolk
1 cup milk (or buttermilk)
1 cup sour cream (or whipping cream)
1/2 teaspoon sugar
1/4 teaspoon freshly grated nutmeg
1/4 teaspoon steak sauce
salt and ground pepper to taste
3 medium tomatoes, peeled and very thinly sliced (optional)
minced parsley for garnish (optional)
Directions
Preheat oven to 450° F.

Fit pastry into 10 or 11-inch quiche dish or pie pan and bake 5 minutes. Set aside.

Melt butter with reserved 1 tablespoon bacon grease over medium-high heat in large skillet. Add onion and sauté until tender. Stir in chicken and bacon, then remove from heat and set aside.

Beat egg white slightly and brush over pie shell. Arrange chicken, bacon and onion mixture evenly over crust.

In a medium mixing bowl, whisk together thoroughly eggs, yolk, milk, cream, sugar, nutmeg and steak sauce with salt and pepper. Slowly pour one-half of the mixture into pie shell. Place cheese slices on top, then slowly pour remaining egg mixture over cheese. (Note: Do not use all egg mixture if it starts oozing over edges of pie crust.) Arrange tomatoes over top. Bake 12 minutes, then immediately reduce heat to 350° F and bake for an additional 45 to 60 minutes, or until a pointed knife inserted into center comes out clean. If desired, sprinkle with chopped parsley for garnish. Serve hot, at room temperature or chilled.