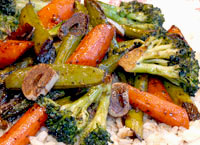 Tips:
May be cooked on your outdoor grill or on your stovetop (see recipe directions for details). Cutting broccoli, carrots and asparagus at a diagonal creates eye appeal. Baby carrots can be used instead of cutting full-sized carrots.
Suggestion:
Delicious over any type of rice (photo shows vegetables with brown Batsami rice).
Place asparagus, snap peas, carrots, broccoli and garlic in a bowl. Set aside. In another small bowl, whisk together the olive oil, vinegar, basil, oregano, salt and pepper. Pour mixture over vegetables and gently stir to coat. Cover bowl with plastic wrap and marinate for 30 minutes, occasionally gently tossing to ensure all vegetables are coated.
Indoor Stir-Fry Method
Heat a wok or large skillet over medium-high heat, then add vegetables with marinade. Cook, stirring frequently until vegetables are crisp-tender (about 10-15 minutes).
Serve over rice if desired.
Outdoor Grill Method
Heat a gas or charcoal grill to medium, then place a grill wok over the fire.
Carefully spoon the vegetables into the wok (adding carefully will help prevent flare-ups). Cook, stirring, until the vegetables are crisp-tender (about 15 minutes).
Serve over rice if desired.