Seafood
Many of us grew up with little exposure to a large variety of seafood dishes. This is unfortunate, because with so many ways to prepare, season,
marinate and cook seafood (fish and shellfish),it can be incredibly delicious. There are also many sauces available to use with seafood, adding complimentary flavor. Another benefit of seafood is its plentiful nutritional value. Fish contains Omega 3 fats, which studies have shown can play a huge role in promoting good heart, brain and joint health. Fish is also high in valuable minerals, such as iodine and selenium, and provides Vitamins A and D, as well as zinc. Below you will find seafood recipes for shrimp, halibut, salmon, crab and tuna. You can also find seafood recipes throughout this website using the various recipe category links. I hope you join me in my quest for more delicious seafood recipes. I look forward to discovering new delicious recipes in the days to come.
Seafood Recipes ▼
Take a walk on the wild side with this easy and incredibly delicious Cajun shrimp recipe! 
Acadian Peppered Shrimp
is buttery and peppery and full of powerful flavor. This shrimp recipe cooks the shrimp in a skillet with a generous amount of butter, ground pepper, cayenne pepper, and a6variety of other dried herbs, and will have you rolling your eyes with every bite. Fantastic served alone or with rice.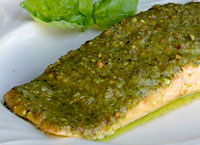 Baked Salmon with Pistachio Basil Butter
features salmon fillets that are baked with a fabulous topping made with a ground mixture of fresh basil leaves, pistachios, garlic, lime juice, butter and a dash of hot pepper sauce (optional). The fillets are partially baked, then the topping is spread over the fillets and some dry wine (also optional) is poured into the baking dish. The fillets are returned to the oven for just 5 minutes.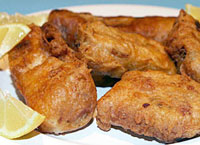 Beer Batter Fried Halibut
is crispy and crunchy on the outside and tender and flaky on the inside! This photo shows this fried fish dish made with halibut, but cod can also be used. The beer adds effervescence to the batter, while some hot pepper sauce and paprika add a little zing. These crispy fried halibut pieces are delicious served with wedges of lemon, sprayed with apple cider vinegar and sprinkled with salt or sides of tartar sauce.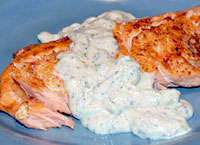 Salmon
takes on a new flair when it's dressed with this tangy Mustard Dill Sauce! The sauce has a texture similar to that of tartar sauce, though the flavor is pleasantly different, entertaining a distinctive hint of fresh dill and the tanginess of grainy (Creole style) mustard. The sauce derives its creaminess from yogurt and sour cream, while lemon juice, fresh dill and a helping of grainy mustard add wonderful pizazz!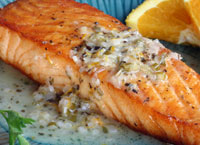 This
broiled salmon recipe
comes with a sauce that features that fresh and lively citrus flavor, using orange zest. In addition to the orange zest and butter, the sauce is simmered with some dry white wine, basil (or marjoram), minced green onions and a pinch of cayenne pepper. The result is an elegant sauce with fresh, tangy and mildly sweet orange flavor and the perfect balance of herbs and seasonings.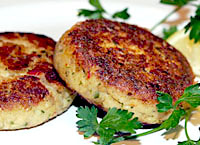 This
Crab Cake recipe
(also sometimes referred to as Crab Patties and Crabcakes) is a fun and tasty way to prepare crab (and spread your dollar!). All you need is some crabmeat (fresh, canned, frozen or even imitation crab), sourdough bread, mayonnaise, parsley, egg, pimientos, green onions and some seasoning. These ingredients are formed into patties, then broiled until crispy brown. Delicious with a variety of sauces.