Here you will find recipes using rice and beans for side dishes, main dishes, salads and more. This recipe collection will continue to grow as I discover more delicious recipes that are made using rice and beans. This page includes
recipes for beans from the legume family as well as the vegetable family in case you are searching for either of these bean types. Beans are often used in recipes for soup, salads, casseroles, appetizers, side dishes and more. Beans are high in fiber, protein, complex carbohydrates, folate and iron and can often be used in place of meat.
Rice is a wonderfully versatile grain, enjoyed by cultures all over the world. Many types of rice can be used with food preparation, such as brown, wild, basmati and jasmin to name a few. Like beans, rice can be used in recipes for soup, salads, casseroles, appetizers, side dishes, as well as desserts, or as a side dish for most any main course. It can also be used as a base for a variety of stir-fry dishes or other dishes. You can find other recipes containing beans and rice throughout LoveThatFood simply by clicking on the various recipe categories.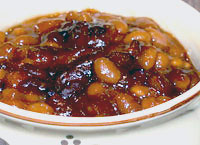 This
Barbecue Baked Beans recipe
is a very easy side dish to make and goes wonderfully with any lunch or dinner barbecue dish or other meat dishes, including chicken, beef and pork. These beans are easy to pack up and take on a BBQ, picnic, party or any other event, and if you own a slow cooker or crock pot, can be kept warm for hours. Large bits of cooked bacon or chunks of ham can also be added to these beans if preferred.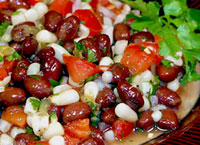 Black Bean & Corn Salsa
is a vibrant and healthy salsa recipe that tastes delicious with
tortilla chips
,
crostini
or other crunchy dipping snacks. While most salsa recipes contain tomatoes and/or tomato sauce, onion and cilantro, this festive
salsa recipe
combines black beans, kernel corn, tomatoes, red bell pepper, diced green chiles and fresh chopped cilantro, giving it unique and delightful flavor and texture, not to mention vibrant color!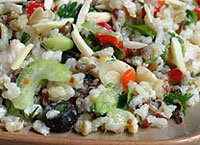 Chicken & Rice Salad with Red Pepper Vinaigrette
(also sometimes referred to as Wild Rice Salad) is light, tangy and refreshing, made with a Red Pepper Vinaigrette dressing. This salad features chunks of chicken breast, a mixed rice blend, sliced celery, sliced ripe olives, sliced green onions and diced pimientos and is is delicious served on its own or over large lettuce leaves, garnished with ripe olives, tomato slices and slivered almonds.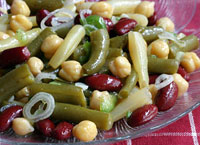 This
Four Bean Salad recipe
has a sweet and tangy flavor, and is a perfect salad to serve at picnics and BBQ's (can last all day with no refrigeration), or as a side dish to any main course anytime. Sliced green and wax beans, kidney beans and garbanzo beans (chick peas) along with slivered green bell pepper and green onion (optional, but delicious!), are tossed with a dressing made with a combination of oil, vinegar, sugar and salt.
Orzo, Feta & Bean Salad
features an unexpected marriage of ingredients that makes a fabulous salad with vibrant flavor. This salad is made with orzo (rice-shaped pasta) that is tossed with green beans (blanced to a tender crisp), tomatoes, garlic, onions and crumbled feta cheese. These ingredients are then tossed with the perfect tangy oil and vinegar dressing, giving this salad its tangy and fabulous flavor!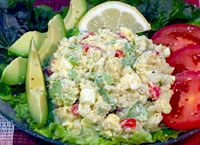 Rice & Egg Salad
is a chilled salad made with rice, hard cooked eggs, thinly sliced celery and green onions and diced pimientos. This mixture is combined and tossed with a creamy salad dressing made with equal parts of sour cream and mayonnaise, along with lemon juice, prepared mustard and seasonings. This tasty salad has a similar consistency to tuna salad or
Salmon Rice Salad
but contains no meat or fish.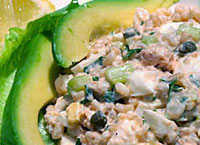 Salmon Rice Salad
is made with flaked salmon chunks, brown rice, celery, hard-cooked eggs, parsley, chives and capers and is blended with a creamy dressing made with sour cream and mayonnaise, along with chopped fresh parsley and some freshly squeezed lemon juice. It is a great salad for luncheons, dinners, picnics, and can be served as a side or main dish. Surprisingly, this salad can also be served as a dip with a variety of crackers.
Tarka Dal
is a lively vegetarian Indian recipe featuring red lentils, tomatoes, fresh cilantro and a variety of Indian spices, and has a consistency similar to stew (without the meat). Dal (also spelled Dahl, Daal or Dhal) is a term that refers to the preparation of a variety of Indian recipes that include lentils, peas or beans, and is an important part of Indian, Nepali, Pakistani, Sri Lankan and Bangladeshi cuisine. Delicious as a side dish!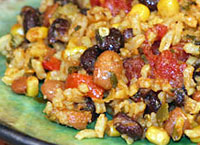 Yellow Rice with Beans and Corn
is a colorful Mexican side dish that combines a mixture of chopped fresh cilantro, pinto beans, black beans, yellow corn, red bell pepper, onions, garlic and stewed tomatoes. This wonderful mixture cooks on the stovetop in only 30 minutes - no stirring necessary! The yellow rice gets its color and unique flavor from saffron, an exotic spice that comes from a flower native to Southwest Asia.