Desserts & Sweets
There's nothing like finishing off a delicious meal with something sweet or grabbing a quick sweet treat when that craving strikes. The beautiful thing
about sweets is how many varieties there are and how easy they are to make. When it comes to cake, there are layer cakes, angel food cakes, pound cakes, cupcakes, bundt cakes, cheesecakes and more. Candy is surprisingly easy to make and also comes in many forms. from hard candy to soft and chewy candy, flavored popcorn, cereal, shoestring potatoes and nuts, and of course, let's not forget chocolate. Cookies and bars (or squares) are always wonderful and convenient, and a big hit with all ages any time. Pies are always elegant and satisfying great for holidays and other social events, and can be made with fruit or rich and creamy ingredients. Check out any of the categories below to find the perfect dessert or sweet to satisfy that sweet tooth!
Dessert Recipe Categories ▼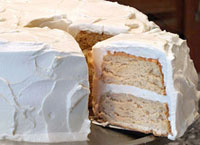 Cakes
come in all sorts of shapes, sizes, textures and flavors. Although cheesecake is much like a pie in that it has a creamy texture and rests on pie crusts, it is also considered a cake. On the
Cake
page, you will find layer cakes, angel food cakes, bundt cakes, coffee cakes, muffins, cupcakes, pound cakes, cinnamon rolls and yes, cheesecake! Shown here is a delicious melt-in-your-mouth
Angel Food Cake with Caramel Fluff
.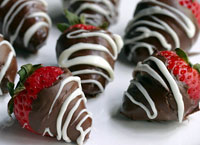 Sometimes there's nothing that will satisfy that sweettooth but a few bites of some
Candy
. Whether it be chocolate candy, caramels, candy bars made with cereal, crunchy English toffee, peanut or cashew brittle, caramel popcorn, chocolate covered fruit such as the
Chocolate Covered Strawberries
shown in this photo, sometimes we deserve to treat ourselves with a little of that divine sweetness, just because!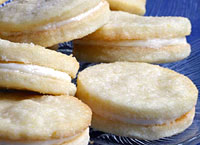 For the Cookie Monster in all of us, the
Cookies and Bars
page offers a variety of cookie and bar recipes to satisfy that cookie craving, including sandwich cookies, chewy cookies, crunchy cookies, shortbread cookies, iced cookies, cookie bars, brownies and more. Shown here are some
Lemon Shortbread Sandwich Cookies
. Whether you're looking for a traditional cookie recipe or feel ready to try something new, you'll find it
here
!
Pies
are fantastic any time of year, but are especially celebrated around the holidays. Pies come in a variety of styles, whether it be fruit pies, ice cream pies, yogurt pies, creamy pies and more. Whether you're looking for a recipe for Apple Pie,
Pumpkin Pie
(shown here), Cookies and Cream Pie, Key Lime Pie or haven't decided yet, the
Pie
page offers a variety of pie recipes (including pie crust recipes) from which to choose!